Go for gold using the art nouveau work of Gustav Klimt
Art Nouveau (French for 'new art') describes a highly decorative style in art that emerged in Western Europe in the late 19th century. Here we look at one of the works of Austrian painter and designer Gustav Klimt (1862-1918), a forerunner of this movement. The painting, Portrait of Adele Bloch-Bauer I, has been chosen as a starting point because of its decorative nature and the use of gold. This painting and other examples of Klimt's work can be seen by searching on Google Images. (Please note that if showing other examples, select them carefully as some are not appropriate for young children.)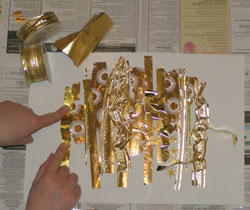 Getting inspired
Look together at an image of the painting, Portrait of Adele Bloch-Bauer I. Ask the children for their first impressions. How would they describe the painting? What is the main colour used?
Encourage the children to look for different shapes and patterns that Klimt has used. Can they find circles, spirals, squares, triangles and 'eye shapes'? Create a class observations sheet, inviting children to draw examples of the patterns they see. Talk about and name the shapes.
Explain that you want the children to use Klimt's painting as a starting point to inspire them to experiment in drawing patterns. Say they can use gold, silver and other shiny materials available to create their own designs.
It is not necessary to make finished products. By introducing children to the different media and allowing them time to experiment and be creative, you give them a joyful experience that they can draw on in other artwork.
1. Encourage the children to look for, talk about and draw shapes they see in the picture, Portrait of Adele Bloch-Bauer I. These could include circles inside squares, spirals that join together or triangles in a line.
2. Suggest the children choose one particular shape and create a simple pattern that they can colour, in a similar style to that used by Klimt. Emphasise that you do not want them to copy your example but to try out their own ideas.
3. Provide a range of drawing media such as wax crayons, oil pastels, paints and felt-tipped pens in gold, copper, oranges, yellows and reds. Involve the children in selecting appropriate media to colour the design.
4. Encourage the children to experiment in finding other ways to create designs, such as drawing on foil with a glue stick and then shaking glitter over the drawing. Try adding further detail using a tube of glitter glue.
5. Ask the children to suggest ways to make gold, textured surfaces. For example, experiment in achieving different effects by painting with glitter glue and ready-mixed gold paint. Use diagonals and zigzags to make the patterns more interesting.
6. Demonstrate how to achieve a textured effect using collage materials such as gold ribbon, wrapping paper and foil. Crumple the materials up before gluing them to the backing paper, and add sequins for a bit of sparkle.
7. Assemble a glittery collection of objects that children can use to create an ephemeral design. Explain to the children that the objects will not be glued in place, but instead will be photographed before being dismantled.
8. Ask the children to help you arrange the objects to make a design. When completed, remember to photograph the artwork before re-using the objects. Then let the children create their own patterns.
Taking it further
Provide a choice of fabrics and threads, based on the colours observed in Portrait of Adele Bloch-Bauer I. Invite the children to experiment freely with stitching and appliqué to create a textured design. Older children can incorporate shapes they have observed into their design. Ensure close adult supervision when using needles. Embellish by adding sequins or buttons.
Experiment in creating spiral designs by covering 10cm x 10cm squares of thick card with

PVA

glue and using string to make spiral shapes. When dry, paint over the string and card with gold paint and mount the individual designs close together to create one stunning piece of work.
Invite older children to draw the figure of a woman in a long dress and decorate her dress using techniques they have learned.
Make a sumptuous gold display, incorporating items such as wrapping paper, gift bags, ribbons, threads, necklaces and curtain rings. Encourage the children to touch and enjoy the textures and colours in the display.