In the last of three articles, we explore the rich possibilities for talking about gardens using Mary, Mary Quite Contrary
Nursery rhymes offer a valuable way into a whole range of topics for discussion, crossing many areas of knowledge and understanding. In the last article in our nursery rhyme series, we explore the potential of Mary, Mary Quite Contrary.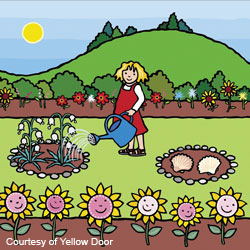 Mary, Mary
Display the Mary Mary poster on your interactive whiteboard, or hand out copies of the nursery rhyme activity sheet. Enjoy singing the nursery rhyme together. You could do this in two parts: one group asking the question and the other giving the reply. Use the picture on the poster as a focus for discussion about Mary. What kind of person do the children think she is? Does she look after the garden all by herself? Did Mary choose all the plants, or could she be growing them for someone else? Encourage the children to think about words to describe the garden. Is it a pretty garden? What kinds of plants might grow there? Have they ever seen any 'silver bells' in a garden?
Quite contrary
Use the text to draw attention to various features of the print. Start by challenging the children to find words that rhyme with 'grow' and 'row'. Use moveable letters to show them that 'row' can be found within 'grow'. Can any new words be made by placing other letters in front of 'row'? Discuss the meaning of the word 'contrary'. Are any children familiar with the word 'contrast'? What do they think 'contrary' might mean in that case?
How does your garden grow?
Grow a little garden for Mary to look after. Spread some compost in a large shallow tray, and spray it with water to make it damp. With the help of the children, sprinkle a selection of fast-growing seeds on the compost, such as mustard and cress, alfalfa or grass seed. When the tiny plants are established, create little paths, beds and borders using shells, pebbles and other natural objects. Add a small-world person to represent Mary. Gather a collection of gardening items with the children. Include seeds and seed packets, watering cans, trowels, and so on. Let the children explore the collection and discuss what they might be used for. Add a range of gardening magazines and seed catalogues, and spend time browsing through them as a class.
These ideas and activities are tasters from one of the eight nursery rhymes featured in the Come Alive Nursery Rhymes: Games and activities pack and Interactive CD-ROM by Helen Bromley. They are reproduced here by kind permission of Yellow Door. For further information visit www.yellow-door.net or call 0845 603 5309.
With silver bells
Download the 'Musical bells' interactive activity. Each bell is a different note, which children can click on to play a tune. The five notes form a pentatonic scale, which lends itself to composing simple melodies. Can the children devise a way to write down the tunes they have created? Offer a range of real bells for children to play and explore, such as hand bells, cow bells or jingle bells. Challenge them to try and recreate the tunes they made onscreen, and record their compositions.