and Jasen Booton — Year 2 teacher
The time when parents helped their children with spelling tests is over. It's all about embracing blending and segmenting now
Judy Noy
Many parents are keen to help their children learn their spellings. However, with the current synthetic approach to phonics teaching, spelling tests are disappearing, except for high frequency words with 'tricky bits'.
Early in Reception most children are introduced to letter groups, usually using programmes such as Jolly Phonics, which supports Letters and Sounds (see pages 18-20 for a comprehensive breakdown). Parents therefore receive graphemes from school, rather than words to learn, and are encouraged to help their children to blend and segment using these letters.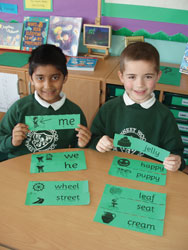 Parents are often unfamilar with the different methods to teach reading
Most parents are often bewildered by the current terminology used in phonics teaching: graphemes, phonemes, blending, segmenting, split digraphs and adjacent consonants! So it is essential to provide some high quality workshops for them, so that they can understand both the principles behind phonics teaching and also the terminology used.
However, parents can sometimes be reluctant to attend workshops and hence need persuading. Furthermore, once they do attend, workshops ought to be light-hearted but informative; supportive but non-threatening.
Jasen Booton, one of our Advanced Skills Teachers (ASTs), has some great ideas to support practitioners and teachers in arranging exciting workshops for parents.
Jason Booton
Why is it that whenever I ask my four-year-old daughter what she's done at school, she always replies 'Nothing'? There is a glimmer of hope though; Olivia will happily rehearse her Jolly Phonics. She performs her actions with precision and scolds me for not saying the sound correctly. I see this as a chink in her armour and try to prise out as many sounds and actions as I can. So colleagues, seize the moment: get your parents involved with phonics and relish the smiles of appreciation. For several years, teachers at my school have led phonics workshops for parents. Attendance has been consistently high, with extremely positive feedback. Subsequent comments in reading records have astounded me with remarks like 'we spent the evening blending and segmenting.' The following are a few tricks and tips for a successful workshop, based on the ones run at my school.
Most parents are often bewildered by the current terminology used in phonics teaching
How to get a good turn out
Let parents work alongside their child. More parents will attend if they can see their child actually talking about school.
Have a prize draw. Give all the children a 'golden ticket' to bring to the workshop. A prize of phonics cubes or magnetic letters goes down well.
Provide 'goody bags'; the allure of whiteboards and dry-wipe pens is amazing. Tell the children in advance – 'positive pester power'!
Invite parents to come and play with sounds. I make no apologies for using the word 'play'; learning sounds should be fun.
How to structure the workshop
Split the workshop into two parts. The first part can involve parents learning from the children in the hall. Twenty minutes is ample here.
The second part involves parents working on their own with the teachers and TAs, while the children relocate to a classroom for a 'cinema treat'. Parents then revisit the previous activities. They soon discover that their children have learned a great deal in school as they struggle to pronounce 'pure sounds'. Again, 20 minutes is enough for this.
KISS

— (Keep It Super Simple)
Limit the vocabulary to blend, segment, phoneme and grapheme. Don't bombard parents with technical definitions, unless you want to see eyes glaze over.
Allow parents to learn through play, just like their children. *Model a few games that parents will easily remember how to play at home.
What to include
Emphasise the importance of sounding out correctly. Mrs Blakeway, an excellent Reception/Year 1 teacher at our school, role plays being 'Madam Precise Sounds'. She shows a variety of letters on cards and models saying the correct sound. Watch parents gasp, when they learn that 'b' is not pronounced as 'bu'!
If your audience is mainly Reception year parents, explain what phonics programme your school has adopted. Jolly Phonics is used and loved by all in our school, together with Letters and Sounds.
Give high priority to blending and segmenting. For Reception parents, model oral segmenting and blending.
Draw sound buttons for simple letters and graphemes, then digraphs and trigraphs.
If your audience is mainly Year 1 or Year 2 parents, show that one sound can be written in different ways. We provide our parents with sound cards – for example, word and picture cards for graphemes representing /ee/. We ask parents to sort words into 'grapheme friends' (words with the same grapheme). We then set them the challenge to think of a silly sentence/phrase including the 'grapheme friends', for example 'three green teeth'.
And finally…
Remember to have fun with the parents; they are at the workshop because they want to help their children, but they're not your children. Humour eases the nerves – both yours and theirs. Oh yes, and a large tin of chocolates to reward hard work is a definite winner, too!