You've got your degree and you're now ready to teach – congratulations! However, as a newly-qualified teacher you maybe feeling a bit nervous about putting everything you've learned into practice, so we're here to make your first steps easy
15 ways to shine in your first year
Start off on the right foot with this essential advice every NQT should know
Now the training is over, it's time to teach – in the real world. All that training may seem like a distant memory. From placements to paperwork, to finding your first job and establishing yourself with a class, this definitive guide will help you lead a successful first year in teaching.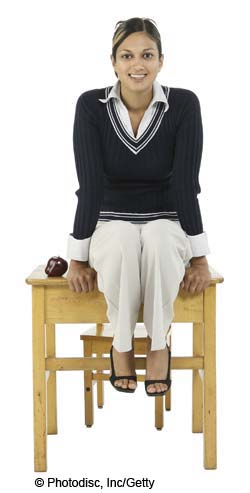 Teaching practice
1 Join the students' section of a union or association. This will give you full legal cover if a child who has an accident makes an accusation against you. It is never wise to be alone with a child because, if they ever accuse you of anything, you have no witness. If you have to reprimand children, always stand back from them and do not touch them. A touch or tap can easily be misrepresented as a smack.
2 Look through the professional standards before you start
and work out which you can fulfil during the placement. Lots can be done during the course of your everyday planning and teaching. Try to complete one or two per week.
3 When you observe lessons, make notes on how the teacher:
manages the children' behaviour – prevents children from disrupting, and encourages the reluctant and less able to join in
makes the lesson interesting
uses questions to get the children thinking
organises lots of equipment
provides for the children who have learning difficulties or English as an additional language
guides children to find things out for themselves.
4 Try to establish a pleasant working relationship with all the staff. Let your mentor see that you respect their judgement and are eager to learn. Make friends with any other students, so that you can support each other. Liaise closely with teachers, and always ask for guidance if you need it – they will appreciate your willingness to learn. Thank the classroom assistants. They will help you much more eagerly if they are valued.
5 Never get involved in staffroom politics or arguments. If you find yourself in a difficult situation where the staff will not allow you to do what the college wants, inform your college supervisor and ask them to sort it out.
Finding a job
6 Choose a school where you feel welcome and able to work in harmony with others. On your preliminary visit, look closely at the following:
The head teacher. Are they approachable? Do they speak respectfully to the staff and the children?
The staff. Are there kindred spirits who will support you through your induction year?
The children. Are they polite and interested in their work? Could you get on well with them?
7 The letter of application. Make a list of all the points on the job description and do a letter plan similar to the following:
Paragraph 1: State the post, your college and faculty
Paragraph 2: Why you are interested in the post
Paragraph 3: Your interests and strengths – extra-curricular activities, previous experience of working with children, your organisational skills, ability to work in a team or handle responsibility
paragraph 4: Names of referees, and a final enthusiastic sentence.
Decide which paragraph will contain each point from your list of items from the job description. Write enthusiastic expressions such as: 'I enjoyed my experience as…', 'In this post I can contribute to the school's life by…', 'I view this post as an opportunity to…'.
8 The interview. Prepare by writing model answers to the following questions:
Why are you interested in this post?
How would you organise your class?
How would you extend to more able; and support the less able; and children who speak English as an additional language?
What behaviour-management strategies would you use?
How would you deal with disruptive children?
How would you deal with children who never produced their homework or were consistently late?
How do you make lessons exciting?
Describe a set of lessons you taught on teaching practice
What extra-curricular activities can you offer?
How do you view the role of the nursery nurse/classroom assistant/lab technician/ICT assistant?
If a parent approached you aggressively, accusing you of unfairly treating their child, how would you respond?
Remember to read your answers shortly before your interview to refresh your memory.
The induction year
9 Establishing yourself with each class. In the first lesson it is vital to set the standard of behaviour and attitude to work. Children get out of control when they know that the teacher lacks self-assurance. Therefore, hold your head up, put your shoulders back, look children in the eye, and speak in a calm and confident voice, making it clear that you are taking it for granted that everyone will comply. If you dislike a child, conceal it at all costs.
10 Behaviour management. Children will conform more willingly if you speak politely. Explain everything you expect of them – punctuality, equipment for each class, homework in on time, other children treated considerately, and so on. Stick to the school's behaviour policy as closely and consistently as you can. Try not to shout, because noisy teachers have noisy classes. If children are difficult, try to begin your relationship with them by saying something positive. Catch them doing the right thing and praise them. Establish your own framework of rewards and sanctions, and keep the praise flowing.
11 Incentive schemes work better than frequent punishment. I have known each of the following to bring about improvement:
Team points. Divide the class into four teams with snazzy names, and put up a chart with the names on it. Put a sticker by each team's name each time they work or behave well for a session. The group with the most stickers gets a small prize at the end of the week
Star chart. A star chart with everyone's name is on the wall and children get a star for good work or behaviour, and a small prize for the best child at the end of each half term
Golden time. Set aside a period, such as the last 30 minutes on Friday afternoon, for children to choose what they would like to do, educational or otherwise. During the week they lose minutes if they misbehave. Have a golden time chart on the wall and mark off the minutes that individual children have lost. For the lost minutes they have to sit and watch others enjoying themselves
Special mention box. Children write down anything a child has done to help them during the week, and put it in the box. At the end of the week, they are read out
Marbles in the jar. Each time the class as a whole behaves well, the teacher puts marbles into a jar. When the jar is full, there is an extra play time for ten or 15 minutes.
12 Organisation. All your resources must be ready, or the children will take advantage and your lesson will fall apart. Try to store your lesson plans and activity sheets with everything clearly labelled, allowing you to retrieve them quickly the next time you need them. Organise the children so that those who don't work well together are separated, and children who are not competent in English are seated next to bilingual children who can interpret. Resources should be placed where children can easily get everything they need, and replaced correctly afterwards to avoid frustration and wasted time looking for them at a later date.
13 Parents can be a great support to the teacher. So it is worth keeping them on your side. Be pleasant and try to establish a positive, friendly relationship. Also, make sure the children know that you regard their parents as friends. If you have a problem with a child, try to call in the parents early and explain your difficulty in a factual manner, without negative adjectives. Make it clear that you like their child and are only concerned for their well-being. Try to avoid confrontations, as they always lead to aggravation in the classroom.
14 Planning. If there is another class in the same year group, divide the work among you and share your plans and resources. Always ask for copies of the previous years' plans and evaluations to avoid duplicating work. It is best to hand plans in on time because heads will scrutinise you more closely if you don't. If you plan on a computer, each week's plan can be superimposed on a previous one and the activities which are the same most weeks can be left unchanged. If you save each plan under its own file name, next year you may be able to just change the date and amend a few details.
15 The big picture. Don't judge yourself harshly when you make mistakes, because none of us are super human. Also, keep it at the front of your mind that you work to live, not the other way round. Try to eat and sleep well, and have at least one other interest that is quite different from work, and make the most of holidays. Get away if you can, and do something that is stimulating, fun and takes your mind off school completely. It will enhance your performance in the next term.