Swap the classroom for the boardroom and teach children important life skills with our new cross-curricular series. This month: the garden challenge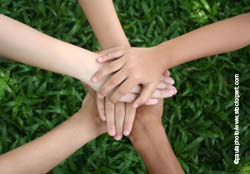 Working together to improve an area of their school is a fantastic way to develop children's teamwork skills
You'll have probably seen that TV programme where a group of 'apprentices' slug it out to win a top job with Sir Alan Sugar. The in-fighting and cut-throat competition demonstrated is all a bit unhealthy, but what if you could bring some of the more positive elements into the classroom?
In 2001, The Guardian organised a competition that asked children to outline plans for their ideal school. With more than 15,000 entries, it certainly touched a nerve. Children had strong views on how their schools should be and a strong desire to see the plans become reality. Our new 'Junior entrepreneurs' series is a great opportunity to capture that same enthusiasm, by asking children to work on authentic school-based projects and put into practice all the skills required by a real-life apprentice.
Real-life projects
One effective real-life project is to ask children to plan an outdoor space. There are many learning opportunities that arise from this and opportunities for the junior entrepreneurs to learn about project planning, working with others and presenting proposals – to name but a few life skills.
The first thing to think about is the scope of the project. Asking children to redevelop the entire school grounds might be a little adventurous, so also think about smaller-scale projects. It wouldn't take too much in the way of expense or physical work, for example, to redesign the area immediately outside the classroom. Or, there may be a corner of the school playground that is neglected. Could it become a wild-life haven for plants and bugs? Getting children involved in the choice and scope of the project is a good way of creating that important, initial momentum. You could even be in role as Sir Alan!
Once you have decided on the project, it's time for the children to do some project planning. There's some very useful skills to be learned – skills that are often the hallmarks of successful learners – such as breaking down big tasks into manageable chunks, taking responsibility, presenting proposals and updates, and meeting deadlines.
Children will learn how to give and receive opinions with an awareness of others — a great life skill to learn
THE PROJECT
Step 1: Research
At the first stage of the project, the junior entrepreneurs should look at the current situation. This provides lots of opportunities to explore the way in which the space is currently used and in doing so, can help meet the curriculum needs of geography, citizenship, ICT, maths and English. Questionnaires could be used to gather the opinions of everyone that uses the space and results presented using graphs and diagrams. Measures and maps of the area or, if it's a large area, an outline map, can be used to record existing key features. Digital photographs can be taken of the area and labelled using an editing program. With a little help, children can then set up a blog and maintain this to show the progress of developing the area. Finally, the children should produce a presentation, summarising the current use of the space and highlighting the key advantages and disadvantages. The presentation could be in the form of a wall display and/or PowerPoint® presentation.
Step 2: Planning
The junior entrepreneurs can now begin to plan how they would like the area to be developed. Their plans, recommendations and alternative solutions should be based on the findings from the first step.
Children could produce sketches and drawings of their suggestions, some of which could be accompanied by written explanations. When planning, remind the children to think about some of the practicalities of health and safety and the needs of all users of the space. They will also have to think carefully about cost. Will fundraising be necessary? This, in itself, will require careful planning and potentially another project to organise.
Allow the children to present their ideas to others. Staff members, parents or local businesses may be able to offer advice, skills, material or sponsorship. The Head or a member of the governing committee should also be involved at this stage – particularly if funding is involved.
Once the ideas have been narrowed down and the children have reached an agreement, drawings, plans and models can be made to display the plans for approval from others in the school.
There's a lot for the children to learn here. They will need to listen to others and learn how to give and receive opinions with an awareness of others - a great life skill to learn.
Step 3: Teamwork
This stage is all about planning role responsibilities, deciding who will do what and when things will get done. Depending on the scope of the project, external help may be required. Again, remind the children of the potential help parents or local businesses might be able to offer to clear the ground, supply plants, and so on. All the while, encourage the children to review the progress of the project and maintain the project blog.
Step 4: Evaluation
Finally, after the project is completed, there's time to celebrate. Planning an opening ceremony takes the children back into another project planning loop and gives them the chance to review the processes and the learning they have gone through. Were their project aims met? Did they achieve what they wanted to? Are they and others pleased?
We hear a lot these days about learner voice. In 1967, English author, Edward Blishen, wrote about, 'children's longing to take upon themselves some of the burden of deciding what should be learned, [and] how it should be learned.' By working on real projects with real outcomes, your junior entrepreneurs will have a chance to meet this longing. And, with luck, you'll be able to reply: Well done. You're NOT fired!