Short on display space for children's 3D work? Your outdoor area is the perfect place for an interactive exhibition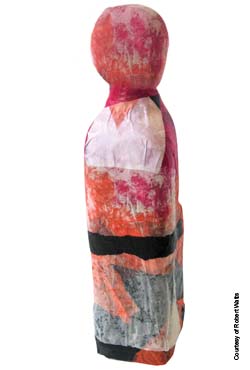 A classroom-sculpture project offers children opportunities to experiment with an exciting range of processes and materials. But there's one problem with sculptures. Once they're finished, what do you actually do with them? Desk space is limited and hanging anything heavy from the ceiling could mean broken sculptures (and bruised heads) – so why not experiment with displaying 3D work outside of the classroom environment?
In this article, you'll find some ideas for projects that can be displayed, and even played with, in outdoor-learning areas. A colourful textiles activity is guaranteed to enliven even the dullest corner of the playground, while a collection of sturdy skittle sculptures will withstand the attention of the liveliest of classes. Experiment with these ideas and children will soon enjoy taking their sculptures into the great outdoors.
1. Skittle sculptures
You will need:
Plastic bottles (various sizes)
Sand
Newspaper
Card tubes
Masking tape
Paste for papier mâché
Tissue paper or paint

PVA

glue
Images of the children or celebrities.
What to do:
Make sure that the plastic bottles are clean before filling them with 4-5 cms of sand. This will ensure that the skittles are stable.
Lightly scrunch some newspaper into a ball to make a head and twist one end for a neck. Insert this into the card tube and fasten with masking tape, then insert the tube into the bottle neck. Make sure that the card tube is long enough to not fall out of the bottle. Once you're happy with the proportion of the head to the body (more layers can be added), add any limbs or extra structural details.
Tear strips of newspaper, cover them with paste and apply to the structure – two layers should be enough.
Add a layer of coloured tissue paper to the skittle, or wait for the paste to dry and paint it.
Print your chosen photograph and glue it to the sculpture. You could use a portrait photo or a full-length shot; either way, make sure the scale is right for your structure.
A final layer or two of

PVA

glue will make the skittles stronger. Check first that the glue won't affect the ink in the photograph.
Assemble the skittles into a triangle outside, raid the PE cupboard for tennis balls – and off you go!
Extension:
Once children are familiar with the process, they will want to experiment with further structures. Set them challenges, such as making more complex pieces by incorporating a wider range of recycled materials into their work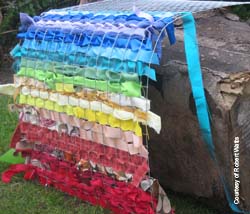 2. Textile fence
You will need:
Strips of thin fabric – cotton, ribbon, and so on (as much as you can find)
Scissors
Masking tape
A wire fence or section of strong netting.
What to do:
Discuss and decide on the pattern you want to create. Do you want to create a structured pattern, perhaps one that blends lines of colour gradually from one to the next, or do you want to create a random composition that features complex twists, angles and circles?
Choose a rectangular section of an existing fence and outline the area with tape as a guideline. It doesn't need to be huge – small areas covered intensively look more effective than large areas covered lightly. (The examples shown here are sections of wire netting placed over a log and a wall).
Weave the strips of fabric in and out of the spaces on the fence – shorter pieces may need to be tied, but longer pieces should be easily supported. Try to cover all the spaces to create a really effective blast of colour – like an explosion in a paint factory!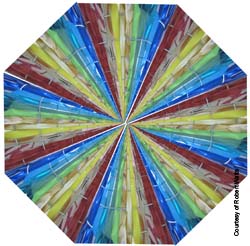 3. Repeating patterns
The following ICT extension is really effective and simple to achieve using art software.
Photograph your textile fence, download to a PC and then open the photo in your chosen

ICT

program.
Use the selection tool to select a rectangular section.
Use the program tools to transform the rectangle into a triangle.
Select the whole triangle, copy it and paste it several times.
Rotate each of these triangles to a different angle to create a repeat pattern.