Five fun ways to develop children's design and technology skills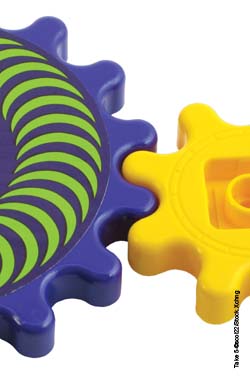 Investigate cogs using a range of different examples
1. Linking levers
Demonstrate a simple lever mechanism to your class. Create a lever using strips of card, paper fasteners and backing card. Give pairs of children three strips of thin card, 2cm wide x 20cm long. Ask them to cut two of these strips in half to make four shorter strips (the 'levers') measuring 2cm x 10cm. The remaining long strip is called the 'linkage', which will be used to connect the levers. With a single hole-punch make four holes, regularly spaced, along the linkage (and the same on the backing card) and two in each lever, roughly 2cm from each end. Use four paper fasteners to fasten the levers to the linkage and another four to fasten the levers to the backing card. Pull the linkage backwards and forwards and observe the movement of the levers. Ask the children to create a moving picture with the help of levers, such as a dog running (with levers for legs). Experiment further by changing the pivot points and position of the levers. (See an online demonstration at ngfl.northumberland.gov.uk/dt/mechanisms/lever%20linkage.html)
2. Pull the other one!
Challenge the children to design and make a working pulley. To simply explain the principle, take a small bag of gravel and tie it at the top to a long length of string. Place the bag on the floor in front of a desk and then pull the string over the desk to lift up the bag. Look at pictures of pulleys on cranes. Provide the children with small wooden pulleys (available from www.opitec.co.uk or use deep-sided cotton reels) and cord or thin string. Other useful components include garden wire, screw hooks, masking tape and dowelling. Challenge them to design a simple pulley mechanism to serve a useful purpose (lifting a small weight or raising a flag). Visit www.brainpopjr.com./science/forces/simplemachines/ for a short video which shows how pulleys and other simple machines work.
3. Hot and cold
Explore different materials and their uses by inviting the children to design a cooler bag that will keep a bottle of water cool in the summer. Ask the children to think about the insulating and thermal qualities of different materials, making a link to science. Show the children an example of a cooler bag and thermos flask. Look in mail order catalogues to observe special construction and design features. Ask the children to draw their designs on paper first, then make a cardboard mock-up and experiment with various shapes and sizes of bag and flask. They should consider extra features (handles and shoulder straps). Collect the materials (aluminium foil, newspaper, cotton wool, fabrics, cardboard) and components needed to produce the product and ask the children to assemble them according to their plans. Remember, the quality of the product depends on how well it meets its purpose, so don't forget to evaluate and test the cooler bags or flask. You could do this scientifically using a thermometer and stop watch.
4. Like clockwork
Talk about examples of products that contain cogs (analogue clocks and watches) and gears (bicycles and cars). Cog wheels of different sizes turn at different speeds to slow down or speed up movement. Big cogs move slowly and little cogs move quickly. You can make a chain of cog wheels using plastic cogs (available from www.opitec.co.uk) or you can make your own. Use an empty round cheese box or a circular lid and cut a strip of thick corrugated card the same depth as the edge of the lid. Glue the card firmly around the edge of the lid. Make a hole in the exact centre of the lid and fix it to a backing board with a drawing pin. Position other cogs carefully alongside so that the wheels turn freely and the teeth interlock. Get the children to notice the different directions in which the cog wheels turn.
5. Surprise, surprise!
Ask the children to design a toy which has an element of surprise. Remember the toy caterpillar that springs out of the tin when you open the lid? Russian dolls and pop-up pictures in novelty books provide similar, if more subtle, surprises. Make a collection of toys or books that have a built-in surprise factor and discuss how and why they surprise us. Encourage the children to think creatively when discussing ideas for their own toy designs. Ask them to think about using spring mechanisms and, possibly, sound effects. They should plan the product on paper first and suggest alternative ways of making it, as well as deciding who its users will be. Encourage the children to make mock-ups, using recyclable materials, in order to test their ideas. You could ask another class to evaluate your products. Do your products have that extra ingredient – the surprise factor?