Discover a fresh new RE series that helps give Bible stories a modern makeover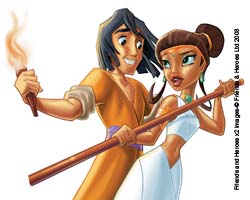 Friends and Heroes retells the Bibles stories in a fresh and appealing way
Friends and Heroes is a new television series which aims to introduce Bible stories – often the source of much of our western cultural heritage – to children between the ages of six and ten years old, whatever their faith. The programmes are designed to be appealing, fresh and exciting and are now available on fully-accessible DVDs.
Produced in the UK, Friends and Heroes uses an attractive combination of both 2D animation and 3D computer-generated animation to tell Bible stories. The programmes can be used as a springboard for many classroom projects, while a website for children aims to support and inspire their curiosity and enjoyment.
Learning from the past
Set during a fascinating and turbulent period in world history – the 1st century AD, the Friends and Heroes stories have a vivid historical context. Although the adventures take place almost 2000 years ago, Macky and his gang are guaranteed to appeal to today's children. The characters' experiences, combined with the poignant stories they tell, aim to help foster respect and encourage tolerance in your class.
Win exclusive artwork!
Friends and Heroes is a fantastic TV series which introduces children to Bible stories in a fresh and appealing way. We have three beautiful pieces of original signed artwork from the series to give away! Visit the 'Giveaways' section for your chance to win.
Importantly, the series demonstrates why Bible stories were preserved and passed on through the ages, and shows the impact the stories (from both the Old and New Testaments) and their preservation had on those who kept them alive.
Friends and Heroes in schools
The historical context of the stories in Friends and Heroes is carefully researched and accurately portrayed. The setting of each series – three landmark cities of the ancient world and their surroundings – is an excellent representation of the architecture and lifestyle of that place and time in history.
To support Friends and Heroes' use as a primary RE resource, there are free lesson plans and child activity sheets, created in association with The Stapleford Centre. The lesson plans include learning objectives and RE links for England, Scotland, Wales and Northern Ireland, which are available to download from the Friends and Heroes website and a full set is already available for Series 1. Series 2 DVDs and lessons have also started to be released and these will be followed by Series 3 in 2009. Information on how to order the DVDs can be found in the 'Further information' box.
Lesson plan
What is worship?
Based on Episode 1: 'Long Journey'
Learning objectives: To explore the meaning of the word 'worship'; to discuss 'hard choices' that can affect other people; to respond to a Bible story imaginatively.
You will need: Friends and Heroes DVD Episode 1: 'Long Journey' (a clip is available from the Friends and Heroes website Bible references for the main stories: Daniel Chapter 6 and Luke 5:5 11; a picture of someone that you (personally) admire and activity sheets 1a and 1b (Activity sheet,).
Introduction
Invite children to close their eyes and imagine their bedrooms. Tell them to imagine looking around the walls, on the shelves, and so on. What can they see? Are there pictures or models? Explain that we sometimes like to surround ourselves with pictures or models of the sorts of people or creatures that we admire as 'role models', because we want to be like them in some way. You may wish to share a picture of one of your own role models, explaining what it is about them that you find inspiring.
Activities
Explain that Episode 1: 'Long Journey' looks at key moments in the lives of two people from the Bible who each had their own role models. Watch the episode to the moment after King Darius has issued his decree.
On the board, write the question 'What is Worship?'. Take some suggestions and add them on the board. In the discussion, emphasise that worship is about placing someone or something at the very centre of our lives. It guides the way we think, the way we speak and the things we do.
In 'Long Journey', Daniel's faith made him the man he was; it guided all his decisions and made him a very good government minister. However, his enemies try to force him to obey a new law making it illegal to worship anyone else but the King. Does he dare to be different?
Tell the children to use activity sheet 1a to record their ideas about Daniel's dilemma. Discuss some answers, then show the rest of the Daniel story on the video clip.
Ask the children: What effect did Daniel's choice have on the rest of the Kingdom? (People could then worship freely again.)
Explain that somebody else faced a hard choice, but this time, instead of deciding whether to say 'No' to something, he had to decide whether to say 'Yes'. Show the rest of Episode 1.
Invite the children to imagine that they were there when Peter met Jesus; perhaps they were a member of Peter's crew. What would they have noticed most? Ask the children to complete activity sheet 1b, colour-coding the text. (Children with

SEN

could work together, with an enlarged copy.)
Reflection and response
In groups, list everything the children know about Jesus and then agree the five most important things. Display the children's lists. Ask, why 2000 years after his life on Earth, do they think millions of people still worship Jesus?
Assessment and reporting
Did the children empathise with Daniel or Peter and give thoughtful responses?
Further information
Series 1 is set in Alexandria, Egypt in AD69, Series 2 in Jerusalem in AD70 (started to be released) and Series 3 in Rome in AD71 (available 2009). Each DVD includes full audio descriptions for the blind and subtitles for the deaf and hard of hearing, plus foreign language subtitles. Schools can purchase each series (of 13 episodes) in a special Presenters' Pack (£89.99 inc VAT), exclusively from the Friends and Heroes website Each pack includes a Lifetime Public Display Licence for your school and a CD-ROM of the lesson plans and activity sheets. Alternatively, send an official purchase order to: Friends and Heroes, Lough House,
Approach Road, Ramsey, ISLE OF MAN, IM81RG.
A clip from 'Long Journey' and two trailers can also be viewed by clicking on the following links: