Time for some creativity in the kitchen using some under-appreciated fruit and veg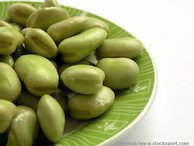 Broad beans
If you need your faith renewing when it comes to broad beans (too many horrible experiences of over-cooked, soggy or tough versions) then this delicious dip is for you. Perfect for spring, it's full of zing and goes perfect with lightly-infused nacho crisps or salad crudités.
Broad bean dip
You will need:
300g broad beans (shells on or off – up to you)
150g low fat crème fraiche
100ml of good quality olive oil
Juice and zest of half a lemon
1tsp garlic
1 fresh chilli (seeds removed), chopped finely
Small handful of fresh mint chopped finely
Salt and pepper
Pinch of sugar
What to do: Bash the beans into a mush using a potato masher then add all the other ingredients. Depending on if you want the dip with chunky bits in or smooth – blitz the ingredients for 30 seconds in a blender. Check the taste and add more seasoning if necessary.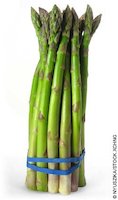 Asparagus
Asparagus is a wonderful spring vegetable, full of nutrients and low in fat. The trick with asparagus is not to over cook it – it should be crisp and tender.
Oriental Asparagus and King Prawn stir fry
(serves 2 – generously!)
You will need:
6 fresh asparagus stalks, diagonally sliced into approx 5cm pieces
1 onion, chopped
2 garlic cloves, chopped
1 tblsp Sesame seeds
300 grams of King Prawns
Handful of fresh coriander
1 medium chilli, deseeded and chopped finely
1tblsp of red wine vinegar, Chinese rice wine or sherry
2 tblsp light soy sauce or Thai fish sauce
1 tsp of ginger (fresh or ground)
What to do:
Heat a little vegetable oil and add the onions, garlic and ginger. Cook until onions are soft. Over a medium heat, add the prawns and stir fry for 5 minutes. Add the asparagus and stir fry for a further 5 minutes – until the asparagus is tender but still crisp. In a bowl, combine the chilli, red wine vinegar , rice wine or sherry, soy sauce or fish sauce, coriander and sesame seeds and mix well. Add to the wok and stir fry for a further 3-4 minutes. Serve with your choice of rice, noodles or cous cous.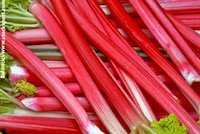 Rhubarb
Baked rhubarb is absolutely delicious and can be served with all manner of dishes. For a simple pud, prepare with sugar and vanilla and bake in a foil covered dish for approx 20 mins, serving it with a good dollop of fresh jersey ice cream. However, rhubarb can work equally well with savoury dishes.
Pork with zingy rhubarb
(serves 2)
You will need:
2 pork medallions or pork chops
400g of rhubarb, sliced
1 small onion, finely chopped
1 medium red chilli, deseeded and finely chopped
1tsp fresh ginger
1tblsp honey
2 tblsp white wine vinegar
50g caster sugar
Salt and pepper to season
What to do:
Season the pork, then gently fry the medallions until tender and still a bit pink. In another pan, fry the onion, chilli, ginger and vinegar until the onions are soft. Add the honey and sugar. Add the rhubarb and gently cook for 5 minutes. Remove the rhubarb but continue to heat the liquid for another 10 minutes until thick and syrupy. Add the rhubarb back in and heat for 2 minutes. Pour a generous amount of sauce on to the plate, placing the pork in the centre and a few rhubarb stalks on top of each pork portion. Serve with sweet potato mash and French beans.