Recharge your batteries at the weekend with a fantastic walk for the whole family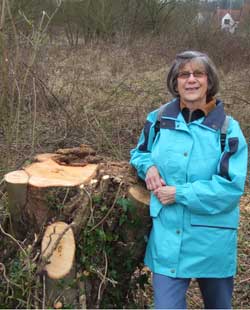 Pam Ireland gets out and about to promote the great outdoors
Last month, I introduced my new walking series with a fantastic ramble through the Cotswolds. Now, with the weather promising even more sunny days – it's time to pack up that picnic again and head back over to that neck of the woods. The following walk is slightly shorter than last month's, but just as exciting!
Stow-on-the-Wold (4 miles)
We started our little walk at the White Hart Hotel in the centre of Stow-on-the-Wold. The village itself is idyllic with plenty of little shops and tea rooms to explore before or after your walking activities. As with all of the Cotswold villages, it's a very popular place during holidays, so be prepared to have patience – especially when it comes to finding a parking spot.
The village green
After walking through the archway of the White Hart Hotel, we turned left towards the first road junction. Here we turned left, and after about 40 yards, turned right into a 'No through road'. This took us past the two old town wells, which run crystal clear all year round. We continued along the lane to the stony bridleway, which has fantastic views over the valley below – a perfect place to fish out the camera. At the end of the path, we turned right and meandered downhill all the way into the village of Broadwell, with its chocolate box cottages, the Fox Inn and a magnificent village green, where we sat to have our picnic lunch. Sitting there, you get the feeling that you are back in olden times, with the stone, thatched cottages dotted around the green. Either that or in the midst of a Midsummer Summer/Miss Marple television setting!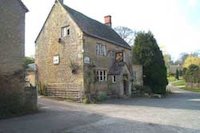 Follow that stream
After lunch, we carried on our walk, passing The Fox Inn (see picture, left – be sure to pop in if you fancy extra refreshments), and after about 20 yards turned right on to a public footpath with a stream on the left. The stream is broad and flowing, and runs clear, rippling over pebbles as it begins its journey to join the River Evenlode. At the end of the stream, we walked up the grassy slope to the road, turned right, then left into Kennel Lane where we passed a converted Dutch barn. We followed the road until it became a wide track, then after a quarter of a mile or so, we came across a well-marked bridleway on the right. We went through a wooden gate on to a driveway and across a cattle grid to the road. Here we turned right at the T-junction and headed back to the village green, where we sat and enjoyed the sun for a few minutes, not wanting the day to end.
With our best foot forward, we then retraced our steps back up the hill to Stow-on-the-Wold, looking forward to visiting the little café we saw for a pot of rosehip tea and a chat about where our next day's walking would take us…