Allison Lee advises on how to ensure your daily routines run smoothly, explains how to manage behaviour and suggests some 'holiday' activities to enjoy at home
Expert advice
Daily routines
Childminders need to think very carefully about time management. The way in which they plan their daily routines will have a huge impact on the smooth running of their business. Time can often be wasted through bad planning, so to make sure that you have time to fit everything into your busy schedule, you will need to have a well-established routine to ensure that:
the children are taken to and collected from preschool, nursery and school on time every day
the children arrive at and are collected from any planned clubs on time babies and young children are allowed adequate time to sleep and rest sufficient time is allowed for all the children's various meal and snack times the children can enjoy activities without having to be rushed.
Routines will need to be altered and adjusted to take into account the changing needs of the children in your care and your plans will therefore need to be flexible.
Q&A
How can I manage the children's behaviour effectively?
Children need boundaries in order to make them feel welcome and secure, and also to help them understand what is expected of them. However, it is important that you realise that not all parents will share your views when it comes to discipline.
In order to manage the children's behaviour effectively:
Write a policy, clearly setting out what is and is not acceptable in your setting. Provide parents with a copy, explaining the reasoning behind your policy.
Work in partnership with parents at all times.
Be firm but fair.
Activities: holidays
What shall I pack?
Decide what clothes to take on your holiday
Personal, Social and Emotional Development
What you need
Stiff card; magazines or clothing catalogues; crayons; child scissors.
What to do
Give each child a 'suitcase' cut from a piece of card. Encourage them to cut out suitable items of clothing from the magazines and catalogues to go in the suitcase. Talk to the children about the clothes they will need for their holiday, for example, if they are going on a beach holiday they will need a swimsuit, sunglasses and sunhat, or if they were going on a skiing holiday, they would require a winter coat, woolly hat and gloves.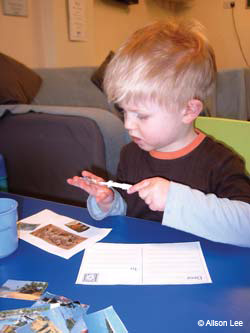 Postcard from holiday
Design a postcard showing an ideal holiday destination
Creative Development
What you need
Stiff card; holiday brochures; black pen; child scissors.
What to do
Cut 'postcard' shapes from pieces of plain white card. On the back of each postcard, mark out an area for the address, message and stamp, using a black pen. Encourage the children to cut out pictures from holiday brochures to design a postcard of their ideal holiday destination.