Find out how your school can raise money for UNICEF, to help protect children in emergencies.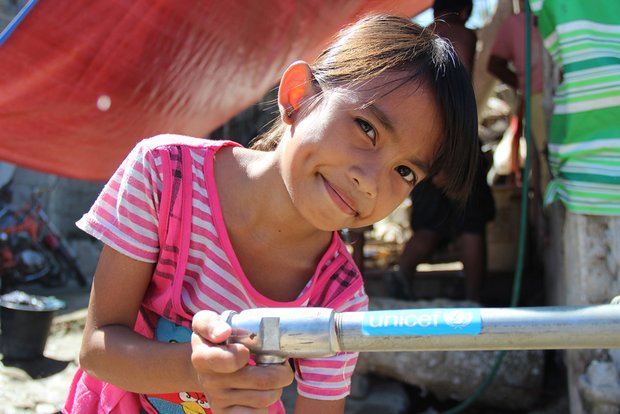 How can my school fundraise for charity?
There are lots of ways that your school can raise money for UNICEF, the world's leading organisation for children.
Your school can hold a bake sale, car wash, raffle, games day, carol concert, fair and anything else you can think of!
You can also sign up for Day for Change, our annual school fundraising appeal.
Day for Change 2015

Now in its 25th year, Day for Change is a chance for your school to learn about what life is like for children around the world, while making a change to your normal school day to raise money for UNICEF.
This year the Day for Change school fundraiser is all about protecting children caught in emergencies. In an emergency, such as conflict or natural disaster, children are often the most affected, losing lives, families, homes and schools. In the past year, UNICEF gave emergency assistance to more than 80 countries including Syria, the Philippines and the Central African Republic, providing clean water, medicines, psychological support, education supplies and much more.
By signing up to Day for Change, your students can learn about children's lives around the world by reading their stories and following our lesson and assembly plans. You'll also help us reach the 59 million children currently facing emergency situations, including children like Cherlyn (pictured above).
On 8 November 2013, one of the most powerful storms ever recorded hit the Philippines. Typhoon Haiyan left a trail of devastation. Four million people lost their homes, including nine-year-old Cherlyn and her family.
The night before the storm hit, Cherlyn evacuated to the elementary school with her mother Dina and her younger brothers and sister. They huddled together as howling winds blew the roof of the classroom away. When the storm calmed, Cherlyn's father Edmond told his family their home was gone. After living in the school for a week, Edmond managed to build a small shack where their house had once stood. At first they had no source of drinking water, and had to walk for an hour to the nearest pump. Two weeks after the storm hit, UNICEF and its partners installed a water supply near Cherlyn's house.
With the help of supporters like you, UNICEF has helped to provide more than 925,000 people in the Philippines with clean water, and is working to rebuild towns, homes and schools like Cherlyn's.
Register your school to take part in Day for Change 2015 now and help protect children in emergencies with your class.
When you register, you'll get a free resource pack full of posters, lesson plans, assembly plans and more to help you plan an unforgettable day.
The official Day for Change is 6 February, but you can hold it anytime that suits your school's schedule.
How does Day for Change link to the curriculum?
Day for Change
has tailored resources for early years, primary and secondary. The lesson and assembly plans link to several different parts of the curriculum, including:
Geography
Literacy
Thinking skills
History
English
Citizenship
What does
UNICEF

do?

UNICEF is the world's leading organisation for children, working in over 190 countries. All our work is based on the UN Convention on the Rights of the Child, which sets out the rights of every child, no matter who they are or where they live, to grow up safe, happy and healthy.

Whenever or wherever disaster strikes, UNICEF responds rapidly to deliver life-saving food, medicine and water so children in danger get the help they need. Find out more at unicef.org.uk.