Sir Peter Williams has published his interim report into how maths is taught. But do his findings really add up?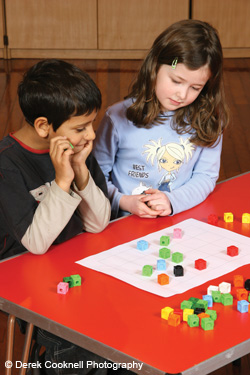 For the past year, mathematics teaching in primary schools has been under the spotlight. Now, an interim report by Sir Peter Williams into how maths is taught in early years settings and primary schools is out for consultation – and its finds make for interesting reading.
The review was commissioned last year following a speech by Gordon Brown identifying the teaching of maths in primary schools as a key focus for his Government. The review's main findings, which were published in March, said that every primary school should have a maths specialist and that parents need to have a less negative attitude towards the subject. With a review of the whole primary curriculum currently underway, and with pressure to raise standards higher than ever, what recommendations is this report likely to make to ministers and what policies are likely to be implemented as a result?
Training teachers
Williams wants every primary school to have a maths specialist teacher within the next five years. However, convincing 15,000 primary teachers of the need for training will be something that Schools Minster, Jim Knight, will have to address once the final report is available.
What is clear from the Williams Review is that teachers are not getting the support or training they need to teach maths effectively. One person who concurs with this view is Ruth Merttens. She has done more than most to inspire teachers with the confidence to teach maths effectively with her work for the Hamilton Trust charity, as well as her popular Abacus Evolve maths scheme. She says, 'It's very hard for the current generation of teachers, most of whom are not confident mathematicians and who have never been taught Piaget and Vygotsky's theories of teaching and learning, to ever pass on a feeling of confidence and familiarity with numbers to their children.'
The UK remains one of the few nations where it is socially acceptable to profess an inability to cope with mathematics
Parents and the wider community
Williams also says that parents and the wider community have an important role to play in how maths is perceived. Indeed, while the review claims that continuing professional development (CPD) for teachers is the key to raising maths standards, without greater encouragement from parents, children are unlikely to improve.
Williams writes, in a passage that is surely destined to be the most quoted of the whole review, that: 'The United Kingdom remains one of the few advanced nations where it is socially acceptable to profess an inability to cope with mathematics. That is hardly conducive to a home environment in which mathematics is seen by children as an essential and rewarding part of their everyday lives.'
Review's key recommendations
one maths specialist in every primary school within the next five years
more

CPD

in teaching maths
parents and carers to be involved in intervention programme
more emphasis on 'using and applying' mathematics.
It is to be applauded that Williams has raised this 'elephant in the room' in his report; whether the Government takes notice of the wider social issue remains to be seen. A response from the minister which ignores this problem – that it's 'cool' to be innumerate – would run the risk of appearing to 'blame the teachers' for a wider social failing. And the even greater risk, of course, is of simply increasing the capacity of the teachers to teach without improving the motivation of the learners to learn.