This multimedia resource features an audio interview with Olympic gold medallist Dame Kelly Holmes, in which the questions are asked by children together with an accompanying biography. There is also a link to a video of Dame Kelly winning her two gold medals in Athens in 2004.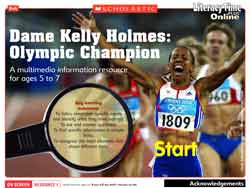 Before using the resource
Introduce the Olympic Games by making a display of events and competitors, past and present, including Dame Kelly Holmes. Explain that the Games are held every four years in different countries.
Visit the website for the 2012 Olympic Games for information about the London Olympic Games.
Provide non-fiction books about the Olympic Games and athletics.

Speaking and listening
Before listening to the interview
Talk about the sports children have watched on television or in real life. Share children's likes and dislikes.
Discuss whether they have heard sports reports or commentary on the radio. Compare listening to this information to watching it.
Watch the film clip of Dame Kelly Holmes racing, then discuss what the children would like to find out about her. Make a list of their ideas.
Discuss appropriate questions related to her achievements and those which would not be appropriate.
Previous learning
Children should be able to: sustain attentive listening and respond to what they have heard with relevant questions/comments; use language to imagine and recreate roles and experiences; find information in non-fiction texts to answer questions about where, who, why and how.
Further resources
www.doublegold.co.uk – Dame Kelly Holmes' official website. Available to order from this site is: Kelly Holmes: My Olympic Ten Days (Virgin Books, 978 18522 72227) – great background information for the teacher, featuring Kelly's Olympic Diary and a history of women in the Olympics.
Using the interview
The interview is presented in small chunks, a question at a time. To help the children develop active listening techniques, ask them to work in pairs, directing each child to listen out for particular things. A list of the questions is on p9, with ideas for focus listening to support them.
Let each pair discuss what they heard.
Discuss how each interview answer provides lots of details. Role play
Listen to and discuss Question 2, in which Dame Kelly describes how she felt when she entered the arena.
Allocate roles to the children: athletes, each from a different country; their coaches; journalists – with digital or video recorders; members of a crowd – with banners or flags supporting a specific athlete. The activity sheet below has badge, flag and ticket templates.
Act out an Olympic Games athletics event and the interviews which follow. Ensure that the reporters interview athletes, coaches and spectators.
Re-enact the event twice to allow experience of different roles.
Discuss in pairs after each role play, how each child felt as that character.
Shared writing
Think of a real or fictional character linked to an area the children have a sound knowledge of. Compose relevant interview questions for them.
Model phrasing the questions correctly and writing them.
Guided and group activities
Record the prepared interviews, using a teacher or child in the role of the character. Encourage the interviewee to provide interesting details.
Provide written questions, asking them to find the answers in the biography. How does reading about someone compare to hearing them talk about themselves?
Look at non-fiction books about other sportspeople. Write questions to guide what might be answered in the books.
Key learning outcomes:
To listen with sustained concentration, remember points and identify what they have learned;
To express views about how information has been presented;
To ask and answer questions;
To adopt roles;
To find information in simple texts;
To compose sentences and use question marks.
Plenary
Make a list of facts about Dame Kelly Holmes using the information in the on-screen resource.
Compose a checklist for asking and answering good questions.