Literacy Time
PLUS

supports the National Year of Reading

1 May 2008

Add to My Folder
Find out about all the fantastic Literacy Time PLUS resources which support The National Year of Reading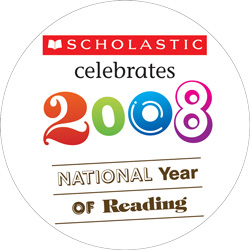 The National Year of Reading (NYR) is a year-long celebration of reading, in all its forms. Funded by the Department for Children, Schools and Families (DCSF), the project aims to encourage and inspire people of all ages to read – but there is a particularly strong focus on reluctant readers.
A wide range of events and activities are planned throughout the year and these are organised into monthly themes (see inset box).
To find out more about the NYR, you can read the article by Honor Wilson-Fletcher, Director of the NYR, published in the May issue of Literacy Time PLUS Ages 9 to 11 and also available here online.
The
NYR

monthly themes:
May – Mind and body
Reading and learning at work. The knock-on benefits of reading.
June – Reading escapes
Holiday and summer reads.
July – Rhythm and rhyme
Poems, poetry and lyrics.
August – Read the game
The influence of sport and how this can help promote reading.
September – You are what you read
Cultural, personal and local identity.
October – Word of mouth
Storytelling, reading out loud, reading together, live literature.
November – Screen reads
Exploring the diversity of reading and writing; scripts and films.
December – Write the future
Writing, texting, blogging etc.
Literacy Time
PLUS

and the

NYR

For the rest of 2008, each issue of Literacy Time PLUS will contain resources linked to the NYR themes.

In May we have lots of sport-themed texts and resources on an Olympic Games theme, including an audio interview with Dame Kelly Holmes a transcript of the interview in poster format, a poster on Real-life Olympic legends, an Olympic Dictionary Game, and a football story set in Brazil, called Bird of Paradise.

There are some great resources to introduce children ages 7 to 9 to the joys of the traditional tale genre too, including a helpful downloadable wallchart How to spot a traditional tale.

Coming up in July we have two fantastic performance poems featuring rhythm and rhyme, both performed by the poets themselves: Wes Magee's 'The Boneyard Rap': and Paul Cookson's 'He Just Can't Kick It With His Foot'. And there's a lovely rhyming poem by Judith Nicholls linking in with our Dinosaurs theme for ages 5 to 9, 'Who Can Tell?': available in downloadable poster format.

We have some interesting discussion taking place on the subject of reluctant readers, too. Find out what author and illustrator, Shoo Rayner, and Deputy Headteacher Paul Blum, think in their two Feature articles.

And there are lots more ideas and resources in the pipeline – so keep an eye on our website for the latest news.