Welcome to the world of Martin Moone and his not-so-vast imagination…

Introducing Martin Moone. Martin is the star of Moone Boy: The Blunder Years – the new book by Chris O'Dowd and Nick Vincent Murphy, based on the award-winning TV series!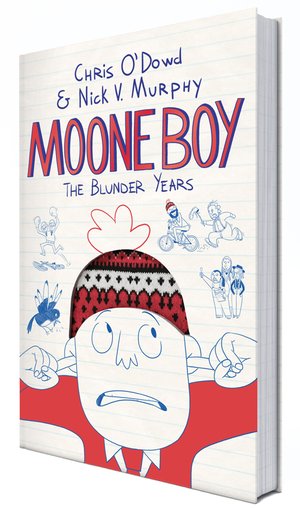 Martin Moone is eleven and totally fed up with being the only boy in a family of girls. With three big sisters, Martin is desperate for a sidekick to help fight his corner. When best mate Padraic suggests he get an IF (imaginary friend), he decides to give it a go.
His first attempt is Loopy Lou, an IF who loves practical jokes and is a dab hand at balloon-modelling – but Martin soon gets fed up with Lou's clowning around. After a rethink, he selects Sean 'Caution' Murphy to be his IF. Sean is much more up Martin's street – and full of tips and tricks about how Martin should negotiate day-to-day life, from dealing with his sisters' pranks to beating the bullying Bonner Boys. But getting rid of Lou is not that easy, and TWO imaginary friends is a recipe for trouble!
You can find out all about Moone Boy: The Blunder Years at www.mooneboybooks.com – including videos, downloads, information about the series and competitions!
Reasons to read Moone Boy:
Move over wimps! There's only one kid in town – and that's Martin Moone *
Martin is joined by his amazing IF Sean Murphy – the best imaginary friend in town **
Based on the mega brilliant hit television show on Sky One
Hilarity, (imaginary) friendship and daring deeds on every single page ***
Packed with awesome illustrations bringing Martin's story to life
* Actually Martin is a bit of a wimp too, come to mention it
** According to himself…
*** Said daring deeds should probably not be tried at home
Moone Boy: The Blunder Years
is packed full of hilarious characters, images and adventures, including definitions to help you along the way. Here are some of our favourites:
Cistern – sounds almost like 'sister', but it's actually part of a toilet. Yes, it's quite noisy and can be a bit stinky, but it's got absolutely nothing to do with sisters
Convo – short for conversation. But the fact that I need to explain it really means that convo is long for conversation
You're a post – an Irish insult for someone who is thick as a post or as lost as a piece of mail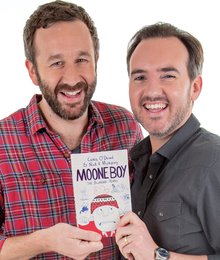 Moone Boy: The Blunder Years is the first book in a new series, written by award-winning actor Chris O'Dowd, who has appeared in films including Bridesmaids, The Sapphires and This is 40. He has also starred in cult TV series The IT Crowd, Family Tree and Girls, as well as Moone Boy for Sky, which he wrote and directed with his friend Nick Vincent Murphy.