Children can use this on-screen resource to plan and write a typical traditional story. It helps them break down their story into a beginning, middle and end, and for each section there is a frame for planning and a story-writing frame. Moving through the resource, the amount of support given gradually reduces.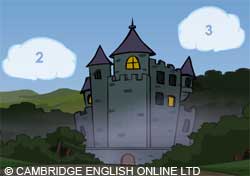 Shared learning and teaching
Before using the resource
Point out some of the common elements of folk and fairy tales – eg, the number 3, as in three wishes, three bears.
Use Poster 1 How to…spot a traditional tale from Literacy Time

PLUS

for Ages 7 to 9, May 200,8 to identify other features of these stories.
Use the activity sheet below to explore elements of favourite tales.
Story beginning
Previous learning
Children should have some experience of traditional stories from work in KS1. If not, more extensive reading should be done before beginning this work.
Preparation
Familiarise yourself with the frames before using them in class and have some ideas ready. Look at examples of traditional stories. Familiarise yourself with one story (see Further reading) then 'tell it' rather than read it to the children. This resource is complemented by Poster 1 How to…spot a traditional tale in Literacy Time PLUS for Ages 7 to 9, May 2008.
Discuss the story opening, comparing it to other traditional stories. Ask for other stories involving old castles and mysterious occupants, such as Beauty and the Beast. Allow the inclusion of films/TV programmes as well as books.
Model using the planning frame, asking for suggestions: who lives in the castle, their name and what the magic object is. Children can use the ideas in the resource or their own.
Discuss the idea of a magic power. Which power do the children think would be most useful? Do they think that the power of the object should relate to its characteristics – eg, a feather = flying? Identify magic powers that might come from everyday objects – eg, pens, erasers.
Model using the 'story beginning' writing frame, filling in the blank spaces with ideas from the plan. Working in pairs, or as individuals, allow the children to plan and model their own ideas using the resource.
Print the story openings and the picture frame to allow them to illustrate the story.
Key learning outcomes:
To use beginning, middle and end to write traditional story narratives;
To use descriptive language, including simile and metaphor;
To show imagination through the language used.
Further reading
The Tolkien Reader by JRR Tolkien (Del Ray Books, 1989, 978 03453 45066). Contains essay 'On Fairy Stories'.
Literacy Time PLUS Ages 7 to 9 Issue 58 (March 2008) – Authors and Letters, featured The Magic Flute and Beauty and the Beast.
Literacy Time Ages 7 to 9 Issue 55 (September 2007) had a traditional storytelling focus and included The Tale-Coat, featuring three audio tales told by Taffy Thomas MBE.
Homework
Explain that the Grimm Brothers collected stories by interviewing storytellers and writing down the tales. Ask the children to interview family members, or visit the local history section of the library, to gather background for other traditional stories. Stories collected by children new to Britain will widen the scope of material collected and emphasise the richness and diversity of other cultures.
Story middle
Identify the narrative style of the middle part of the story (first person).
Imagine and note the kind of things you might see and hear in a forest.
Discuss being lost, and the feelings it engenders, both physical (eg, shaking) and emotional (eg, scared).
In pairs, think of imaginative metaphors and similes to complete the planning frame – eg, a rusty hinge sounds like a squealing piglet.
Complete and print the story frame.
Story end
Read aloud one of the stories written so far – perhaps your own. Discuss what might happen next, highlighting the previous elements of the story plans that must be used.
Refer back to other stories and point out that, often in these tales, two characters meet and help each other.
Explain that, for the story ending, there is only a planning frame, and no ideas are given within the writing frame. Remind the children that it is their story – so there are no wrong answers about what should happen.
Complete the story plan and discuss with a writing partner how the story should end.
Draft the story's ending, if children get stuck, ask them to imagine it is a film and ask 'What do I want to happen next?'
Ask a writing partner to read the whole story and to identify any missing elements from the previous story plans.
Plenary
Read the finished stories aloud.
Discuss what might happen in further chapters and how to plan them. These could be written up in a later session.
Compile the stories into a collection.