Try our delicious, yet simple, strawberry smoothie recipe with the children. Don't forget to get parental permission for the children to taste and handle foods, and check for any food allergies and dietary requirements
The amounts stated in this recipe are for four children. To make smoothies for more children, simply multiply the ingredients by the number of children as appropriate.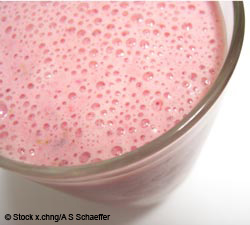 What you need
blunt knife
sharp knife (adult use)
2 large bananas
24 large strawberries
15-20 ice-cubes
blender
What to do
Invite the children to peel and carefully slice the bananas with a blunt knife.
Chop the strawberries in half (or quarters if they are very large). Adult help using a sharper knife, or additional supervision may be required for this.
Place the chopped fruit in the blender, along with the ice cubes.
Explain the importance of putting the lid on the blender and not touching it while it is in operation.
Blend the fruit and ice together, allowing the children to watch until it becomes smooth.
Serve as a delicious summer drink.