Honor Wilson-Fletcher, Project Director of the National Year of Reading explains what the year is all about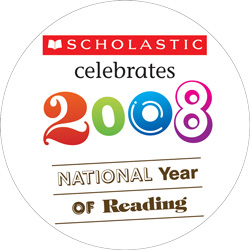 What is it?
The National Year of Reading (NYR) is a year-long celebration of reading, in all its forms. Launched at the beginning of 2008, by Prime Minister Gordon Brown and Ed Balls, Secretary of State for Children, Schools and Families, the Year will help build a greater national passion for reading – for children, families and adult learners alike.
The NYR, funded by the Department for Children, Schools and Families (DCSF), will encourage and inspire people to read in businesses, homes and communities around the country. It will do this by providing new opportunities to read and helping people to access support through schools and libraries.
With campaigns and activities throughout the year focused on reluctant readers, those with low confidence, and boys and dads, we want to boost both children's and adults' love of reading.
At the launch of the initiative, Ed Balls urged parents to spend ten minutes a day reading to their children to inspire a love of reading. He said: "It's very important that we help more children to become confident readers… Surveys have shown that one in ten children has never read a bedtime story and half of children rarely discuss reading at home. As a parent myself I know how hard it can be to find time, but just ten minutes a day can make a difference to a child's future – and create a love of reading from a very early age."
However, the 2008 National Year of Reading is not just about books – it is a celebration of words in every form and through every possible media.
Published as a loose insert inside this issue of Literacy Time PLUS is Boys into Books – a preview of a brand new list of recommended books, chosen because they are perfect for encouraging boys, aged 7 to 11, to get into reading. For more details visit the School Library Association website
A report from the National Literacy Trust published in January 2008 showed that children who declare themselves to be 'non-readers' actually read almost as much as children who regard themselves as 'readers' – particularly when you look at modern reading formats, such as websites and magazines. This shows very strongly that reading today is not just about books – all forms of reading count, be it newspapers, magazines or blogs – and we need to embrace whole new networks of reading, while still celebrating everything that is relevant about the more traditional forms of reading.
What is happening in your community?
The National Year of Reading, supported by a consortium of reading and literacy organisations, will involve a series of national and local level events focused around themed months, such as 'Rhythm and rhyme' and 'Write the future'. Every local authority across England now has a NYR Coordinator, who will work with local education, library and leisure services, together with local business and media, to plan and run community activities.
April Read all about it! Links to newspapers and magazines; library membership campaign.
May Mind and body Reading and learning at work. The knock-on benefits of reading.
June Reading escapes Holiday and summer reads.
July Rhythm and rhyme Poems, poetry and lyrics.
August Read the game The influence of sport and how this can help promote reading.
September You are what you read Cultural, personal and local identity.
October Word of mouth Storytelling, reading out loud, reading together, live literature.
November Screen reads Exploring the diversity of reading and writing; scripts and films.
December Write the future Writing, texting, blogging etc.
Look out for Literacy Time PLUS resources throughout the year based on the NYR themes.
Below is an outline of the monthly themes to inspire you with planning events and activities. These are by no means exclusive so you can create your own themes – the sky is the limit, as long as it encourages more people to read!
The final word
Reading is a crucial skill for life, work and social cohesion. It can change the lives of individuals and communities and open doors to new knowledge and understanding – for children, families and adult learners alike. In particular, reading is the foundation for children's development as a whole and we hope that you are able to get involved in some way in the National Year of Reading.
What can schools do?
As focal points for communities, and as communities in their own right, schools are well placed to play a key role in the National Year of Reading. The Year is an opportunity for schools to build on and develop a whole-school reading culture, to target hard-to-reach and reluctant readers, and to develop further links with parents and community groups. Here are some of the ways in which schools can take part:
Sign up to National Year of Reading updates on the official website, www.yearofreading.org.uk.
Contact your local

NYR

coordinator via the website to find out about local reading initiatives and events that you can get involved in.
Develop your own reading initiatives, or sign up to existing activities such as Reading Connects – www.literacytrust.org.uk/readingconnects – which will facilitate a whole-school approach to reading.
Link your school with your local libraries and visit The Reading Agency's Enjoying Reading website – www.readingagency.org.uk which showcases what libraries can offer to schools.
Encourage participation in The Reading Agency's 2008 Summer Reading Challenge, 'Team Read', or in their 'Chatterbooks' reading groups for children between four and 12.
Check out resources available to support reading as part of Extended Schools policies. The

NYR

website (see the 'About us' section) has a link to 'ContinYou' which can provide information on setting up breakfast clubs, homework clubs, etc.
And remember to go back to the

NYR

website. It will be updated throughout the year so it should help give you some inspiration for classroom activity.