Three more interactive poetry writing frames. 'The Martians', is based around the idea that Mars was once capable of supporting life. 'Why are you so late?' centres around creating imaginative excuses for being late for school. 'In our house', is based on the idea that, in families, people say one thing but mean another.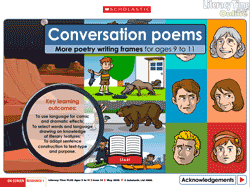 Shared learning and teaching
Level 1 – The Martians
Ask the children what they know about Mars. Look up information on the planet in books or on the internet. Collect words to describe the planet to use in the poem.
The frame uses simile and metaphor. Some preliminary oral or board work may be useful. Begin with a sentence (eg, The rain on the windows sounded like…) then ask for alternative endings. The endings can be as weird as you like but must work. For example: The rain on the windows sounded like claws scratching works, while: The rain on the windows sounded like a trumpet doesn't!
The frame asks the children to imagine Mars as an inhabited planet. Point out that some of the latest photographic evidence suggests there may have been rivers and seas there in the past, and that if there was water it's possible there was life. Explain that the children have to imagine they have seen Martians and are answering questions about them. Emphasise that there are no wrong answers, only possibly dull ones.
Scroll down and run through the whole frame structure before beginning to type in ideas.
Previous learning
It would be helpful if children have seen examples of rhyming and free verse conversation poems – eg, Michael Rosen's 'Mum'll be coming home today' in Literacy Time PLUS for Ages 9 to 11 March 2008.
Preparation
Familiarise yourself with the frames before using them. If possible, use the frames to write three poems of your own in advance.
Level 2 – Why are you so late?
This level explores 'tall tales'. Little preliminary work is needed, other than to talk about reasons people are late for school. Introduce the notion of more imaginative excuses.
The frame asks the children to devise a series of increasingly strange reasons why someone is late for school. The final line is the teacher's voice, seeing through all the excuses. Explain that the excuses can be unrelated or can progress to produce a narrative.
Level 3 – In our house
This frame appears to be the simplest of the three – but is actually the most challenging. Use the poem as a starting point for a class discussion. It provides a model for the children to follow when writing their own version. The model is straightforward and not too serious, but the structure could be used to examine more serious issues:
When he says "I hate parties!"
He really means: Wish they'd invited me.
Key learning outcomes:
To become familiar with the conversational poetry genre and to use free verse;
To explore how writers use language by creating similes and metaphors;
To adapt non-narrative forms and styles to write poems;
To use ICT to create/present poems.
Further reading
Conversation Poems, Part 1 published in Literacy Time PLUS Ages 9 to 11, March 2008.
The Works: Every kind of poem you will ever need for the Literacy Hour Paul Cookson (Macmillan, 978 03304 81045) contains a section of conversation poems.
He Said, She Said, They Said: Poetry in Conversation edited by Ann Harvey (Puffin, 978 01403 68123).
Literacy Time PLUS for Ages 7 to 9 January 2008 – On-screen resource 2, 'Sensational Poetry' – frames using the senses for description.
Group and independent activities
Create models of the Martians, labelling them with descriptive words.
Use the poem 'Why are you so late?' as a plan for a story, or adapt the poem to fit a traditional tale – eg, Red Riding Hood explaining why she is late returning from Granny's. This could be ideal for performance, with the class reading the chorus – eg,
Storyteller: Red Riding Hood set off for Grandma's house.
Class: Go on! Go on!
Using the activity sheets
One of the two activity sheets below offers a form of conversation poem which can be used as a model to complete the second activity sheet.
Plenary
Share the finished poems, including your own.
Perform 'In our house' as a class:
Group 1: When Grandad says,
Group 2: Kids have it easy these days.
Group 1: He really means:
Group 3: Wish I was young again.

Discuss the different conversation styles featured here and in Part 1 of the resource. Which do the children like best? Why? Which was the easiest/most difficult to write? Why?