Discover a leadership scheme that has led to three schools making playtimes a positive experience for all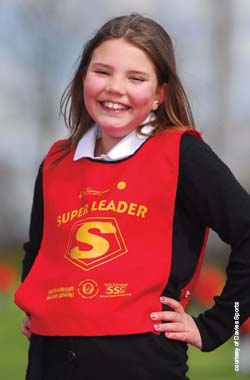 The sound of the breaktime bell can often throw a well-behaved and sociable class into chaos – with all your efforts of encouraging teamwork and inclusion literally escaping out of the door. All too often we hear about playgrounds that are dominated by exclusive games, leaving many children with nothing to do and ultimately resulting in restlessness. This frustration can sometimes lead to disruptive behaviour, bullying, fighting and low self-esteem.
In recognition of this, three School Sports Partnerships (SSPs) in the Leicestershire area decided to undertake a series of audits to uncover the specific problems their schools were facing at breaktimes and introduce a scheme to help solve them. SSPs are groups of schools working together to develop PE and sport opportunities for all young people. Each SSP has a Partnership Development Manager (PDM) who is responsible for managing and developing strategic links with partners in sports and the wider community.
The challenge
The results of the Leicestershire audit identified a number of persistent challenges. Although a number of the schools within the SSP were already using equipment at breaktimes, they were having problems implementing a structure to accompany it, meaning that many children were still being excluded. In addition, the audit discovered that no schools in the three SSPs had any specific leadership training or structured volunteering programmes in place. All of the schools expressed an interest in developing these areas, as well as how a specific structure to breaktimes could help create a more positive environment and generate additional physical activity opportunities.
All too often we hear about playgrounds that are dominated by exclusive games, leaving many children with nothing to do
The PDMs agreed that a robust, organised KS2 leadership scheme would address all of the major issues highlighted from the audit. The PDMs realised that in order to work most effectively, the programme would need to provide volunteering and leadership opportunities, while helping schools to introduce equipment safely at breaktimes. However, the key feature of the scheme needed to be its flexibility – it was important that it could be implemented in a wide variety of school environments.
Super leaders are born
Once all the aspects had been taken into full consideration, the 'Super leaders' scheme was born. The 'Super leaders' idea originated from a discussion about the ideal characteristics of a KS2 leader. It was felt that they should be:
S – Sensible
U – Understanding
P – Physically active
E – Enthusiastic
R – Responsible
The idea of the scheme was that children would either be nominated, or nominate themselves, to become a 'Super leader'. The role of each super leader would be to ensure that all equipment was handed out and collected correctly during breaktimes and that all children were involved in some kind of activity. It was hoped that this would become a project that would not only develop a sense of responsibility and leadership skills, but that it would also create a more positive and active environment in the playground.
Training starts here
Leading UK school-sports resource supplier, Davies Sports, was approached to provide support for lunchtime activities and ideas on how these could be improved using their tried and tested Huff & Puff range. With a similar aim to the 'Super leaders' scheme, the Huff & Puff range looks to address any potential breaktime issues with a structured playground scheme, which is ultimately managed by playground monitors.
All the schools involved in the 'Super leaders' scheme were provided with the Huff & Puff Mega pack, which includes jump ropes, rubber bouncers and ankle skips. Each SSP arranged individual Huff & Puff training sessions with Davies Sports and representatives from all primary schools were invited to attend, including midday supervisors, primary and special school link teachers and Heads.
The PDMs and Davies Sports worked specifically with individual schools to implement and tailor the scheme. A manual for super-leaders' training, including the use of Huff & Puff equipment, was drafted, and customised identification bibs were designed and ordered. The first few sessions of super-leader training were supported by the school sport coordinators and once these had been completed, the bibs were handed out and the schools were ready to go.
Getting active
All schools involved experienced significant improvements in playground behaviour, children's confidence, social skills and relationships with the midday supervisors. Following these initial results, the SSPs then felt that the scheme was ready to be moved up to the next level. The initial implementation had positively influenced two of the three major problems which had been identified in the audit – it was now time to introduce an element to address the third issue – achieving five hours of sport a week.
'ACTIVE 10 Super leaders' was consequently introduced to one pilot school. The idea was that all super leaders would now also take charge of an 'ACTIVE 10' session – a ten-minute aerobic challenge delivered to other children three times a week. This new addition to the programme was well received by teachers and children and, following further evaluation, will be rolled out to all other schools currently implementing the 'Super leaders' scheme.
Further information
Ask your PDM about organising a Huff & Puff training session. For further information on Huff & Puff, visit the Davies Sports website.