Discover the inclusiveness of yoga and its profound effect on children's behaviour and concentration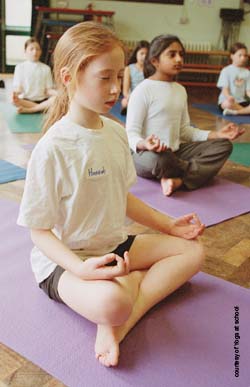 Promote healthy minds and bodies with yoga
Yoga at School has been teaching yoga in primary mainstream and special needs schools since 1999. In that time, they have helped thousands of children learn how to relax and stay calm, and show that yoga can be a fun way to keep fit.
Yoga at School works for all children, regardless of academic ability, body shape, weight, culture or special needs, which means that all children can participate on an equal footing. This is particularly advantageous for shy children and those who might feel inadequate in PE or games sessions, as well as those children with SEN.
The programme's aims and objectives are:
to teach simple safe postures and breathing techniques
to complement

SEAL

and the

PSHE

curriculum
to teach children how to focus, 'self calm' and relax
to ensure that every child is included.
Yoga at School – the benefits
The benefits of Yoga at School include improved fitness, flexibility, better posture and improved concentration. Being able to stay calm and relaxed has a profound effect on disruptive and challenging behaviour. Using simple and practical breathing techniques, children are given the tools to 'self calm' and help themselves through anxious moments, such as SATS, weekly spelling tests and in cases of bullying. While children's learning is enriched by linking yoga with other curriculum areas including PSHE, PE, science, art and history, its main approach centres on the social and emotional aspects of learning. Yoga allows children the opportunity to safely express their emotions and moods and an invaluable and much-used resource for this is Yoga at School's 'Emotions Barometer'. Borrowed from an idea from SEAL, the board enables children to track their feelings and emotions throughout the yoga lesson and see how the yoga affects their mood.
Yoga for all
Recently, Yoga at School was involved in a ground-breaking project with two schools in Warwickshire. Years 1 and 3 children integrated into yoga sessions with children from a local SEN school, whose needs included autism and a variety of behavioural problems. Over ten weeks, the mainstream children visited the SEN school to join in with yoga classes. The SEN children, who had been practising yoga for longer, were able to demonstrate yoga techniques and teach their skills to the visiting children. More commonly, we hear of SEN children visiting mainstream schools and having things demonstrated for them, so it was great to see a positive example of role reversal. All children were able to exemplify good teamwork skills and exemplary behaviour. Friendships were made and both schools reported remarkable improvements in the children's social skills, behaviour and self esteem.
Increasingly, Yoga at School are teaching children who have a severe physical impairment, for example cerebral palsy or spinae bifida, which may inhibit them from performing some postures in a conventional way. The Yoga at School approach is to adapt all postures and activities so that physically impaired children can join in with the rest of the class. The benefits in terms of self esteem are obvious and the whole class is stretched to their potential – literally. You can read two case studies about how Yoga at School helped SEN children at www.scholastic.co.uk/junioredplus
Delivering yoga
The Yoga at School course, delivered by specialists, consists of ten full days, or ten half days spread over a term. For example, a typical morning could consist of four, thirty-minute, whole-class sessions. A full day would consist of up to eight thirty-minute, whole-class sessions. Yoga at School teaches all year groups from Nursery through to Year 6. Class teachers, TAs and LSA are equally guaranteed to have a fun, relaxing time.
Read two case studies about how Yoga at School has helped children with more profound learning disabilities:
Further information
Yoga at School offers a free day so that you can see the educational value and benefits that it can bring to your school. For details, contact Michael Chissick – tel: 0208 508 3653, email: info@yogaatschool.org.uk or visit www.yogaatschool. org.uk