Get children planning their own sports event to promote a range of life skills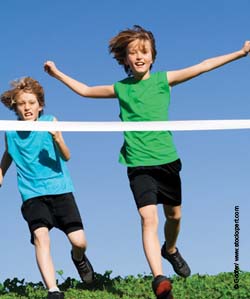 Getting children to plan a school sports day is a great opportunity to practice teambuilding, organisation and delegation skills
For some people, the word 'entrepreneur' connotes a person whose main motivation is to make money. But, there are other connotations: risk taking, tenacity and resilience. When you stop and think about it, these aren't bad qualities for young people to develop. In fact, they're often the hallmarks of good learners. An excellent real-life project to help build these skills is for children to plan a sporting event.
The scope of the sporting event will often be influenced by dates in the school calendar and the support, time and resources available. Wherever possible, encourage children to decide on the event themselves. For the purpose of this article, the focus is planning a traditional sports day, but there shouldn't be anything to stop children planning a whole-school swimathon, a crazy cross-country race or army-style obstacle course! The event could link to a charity or a class topic such as a mini-Olympics for Ancient Greece. Regardless of the event, children will ultimately learn about working with others, overcoming difficulties and being resourceful – all of which are characteristics of successful entrepreneurs and learners.
THE PROJECT
Step 1. The starting blocks
The first stage in any project is to review the current situation. This is a good moment for the junior entrepreneurs to identify what has worked well in the past, and is best suited to small team work with each group addressing a different aspect. As they do so, they will be applying skills across the curriculum. Activities could include:
Devise a questionnaire to research which sporting activities are popular with children, teachers and parents.
Present the results of the questionnaire using graphs and diagrams. Make the results of the research available on the school website for parents to see.
Research other 'non-traditional' sporting activities. One website that has several alternative ideas is www.sportrelief.com/schools/fundraise/ideas
Devise new sporting events for individuals, pairs and groups. Present these to the class.
Research what resources have been used in the past. Does the school have a public address system (PA) for announcing results? How have results been recorded previously?
Research how sporting events have been funded in the past. If a budget is available, prepare a spreadsheet showing how it has been spent previously.
After reviewing the findings from this first stage, discuss with the class the aims of the sporting event. Ask the question: What do we want to achieve?
Step 2. What sports?
By this point, the class should have a clear understanding of what they want to achieve; what appeals to children, parents and teachers; what has worked well previously; and what resources they have in the school.
In small groups, ask the children to produce a list of six sporting activities. For each activity, ask the group to identify how long the activity would take, how many would take part, and what resources would be needed. For each activity, ask the group to rate it against the aims of the whole event. (See Activity sheet, 'What sports?') Ask each group to present their list of sporting suggestions. As a class, agree on the sports to be held at the event. Your steering will be important in ensuring that the activities chosen are achievable and supportive of the children's aims for the event.
There shouldn't be anything to stop children planning a whole-school swimathon, a crazy cross-country race or army-style obstacle course
Step 3. Time for some legwork
Once agreement has been reached on the format of the day and the nature of the events, it's time to begin planning in earnest. There are lots of opportunities here for children to work in small teams – creatively, collaboratively and purposefully – each focusing on a different area, such as:
Producing a timetable and schedule of events for the day.
Devising an entertaining opening and closing ceremony.
Composing a theme song for the day.
Producing a publicity campaign for the event to include in-school and out-of-school promotion through posters, press and local radio.
Inviting local guests, governors, press, sponsors, parents, and so on.
Planning refreshments, rest areas and suitable shade.
Investigating the health and safety implications of the activities and the event. What first aid will be available?
Devising and producing categories of awards and prizes for all participants.
Producing a system for recording results, for example a spreadsheet system to tally scores.
Drawing up a list of resources and equipment needed.
Deciding on individual responsibilities on the day itself – timekeepers, field coordinators, marshalls.
Devising a fitness plan for participants.
Step 4. Get set, go!
At this stage, the class will be engaged in putting plans into practice. Regular progress reviews and reports to the whole class, in assemblies and to the headteacher will help to keep momentum up and ensure that things don't fall behind. Making good use of digital cameras to capture the work in progress and the day itself, and regularly updating the school website or blog, will also help to engage and inform parents. Your input and steering will be important on such matters as school insurance, health and safety and making alternative plans should the day be too wet.
Step 5. Everyone's a winner
Once the sports day or sporting event has taken place, don't forget to celebrate! As part of the celebration, review the success not only of the day, but also the planning. Ask the children to consider what they have learned: about planning the event, about themselves as learners and about working with others. In doing so, there'll be many opportunities to congratulate the children on their abilities to solve problems, listen, think creatively, communicate and to see a challenging task to conclusion. In fact, to be successful junior entrepreneurs!