Discover how one school successfully extended their PE curriculum by adapting street sports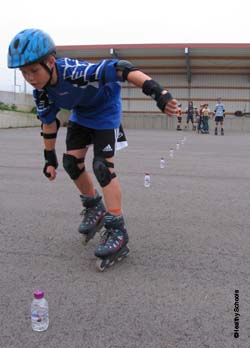 Skate this way for a 21st century PE curriculum
Encouraging children and young people to undertake more physical activity is becoming an increasingly important priority for schools. In the summer of 2007, Gordon Brown, said; 'We need to put school sport back where it belongs, playing a central role in the school day' – and the National Healthy Schools Programme is an initiative which aims to do just this.
The National Healthy Schools Programme is a joint Department of Health (DH) and Department for Children, Schools and Families (DCSF) initiative which provides a broad framework for schools to support their children and young people to develop healthy lifestyles. Improving participation in physical activity is a major emphasis within the programme.
Making PE more accessible
Effectively motivating children and young people to be more active is a huge challenge for schools regardless of size and cultural context, and can require some 'out of the box' thinking. Working with the National Healthy Schools Programme and a comprehensive network of local and national partners, schools are increasingly embracing a range of alternative physical activities including popular 'street sports' to help make PE lessons more accessible and appealing to young people.
Our school
At Phoenix Primary and Secondary School, we cater for children and young people from Early Years to Year 10, with a variety of special needs including autism and language and communication difficulties. Based in Tower Hamlets, London, our school has a multi-ethnic population, of which approximately 40 per cent are from Bangladeshi families and 75 per cent of children receive free school meals.
Our mission statement as a school is to offer a positive, life enhancing education, providing opportunities for the development of each individual's potential. As part of our work towards gaining National Healthy School Status, which we successfully achieved in July 2007, we began to consider and explore new methods for effectively engaging our children and young people in PE.
Getting our skates on
After realising that we had a lot of interest from students and teachers in starting a PE skating lesson and an after-school skate club, we contacted Skatefresh Inline Skate School which is based in London and nearby Brighton. As one of the highest level of certified skate schools in the world, Skatefresh's mission is to enrich its physical education curriculum by bringing the fun and excitement of inline skating into schools.
At Phoenix School, we've now been running skating sessions as part of our curriculum since 2005, and have found skating to be a really great means for encouraging participation in sports and physical activity. Incorporating inline skating into a physical education programme allows for a greater range of students to achieve sporting proficiency and can be enjoyed by children who may not think of themselves as 'sporty'. It really builds both self-esteem and cardiovascular fitness, and is a great form of aerobic exercise because the children remain active for the whole lesson as even standing still in skates takes balance, coordination and muscle effort.
Skating success
Inline skating can be successfully introduced into the PE curriculum of any school from the age of six to seven. It can be easily accommodated in schools - either inside in a sports hall or outside on the playground and can also be extended to before and after-school clubs with opportunities to extend to allow children to progress to other skating disciplines such as inline hockey, freestyle skating or slalom. Plus, one of the great things about inline skating is that it is much cheaper and easier to facilitate than many alternative sports.
Skating has consistently proved a massive hit amongst both our primary and secondary children. Children who have taken part in skating sessions have really enjoyed themselves, and many of them tell us that it is now one of their favourite parts of the school week.
Wheel benefits
Amongst our children who participate, we have seen real developments in regards to improved balance, fine and gross motor skills and coordination and cognitive skills. We have also noticed that many children who give up in other sports, often really enjoy and persevere with skating. We are even finding that some children and young people are inspired to continue developing their skills in the sport outside of school hours.
We have also seen that the benefits of skating lessons go beyond the obvious fitness benefits. For example, after just 12 skate classes, one autistic child, who previously didn't socialise or participate in any group situation in regular lessons, spontaneously started to join in with the rest of the group, and is now participating in group activities in all regular lessons. Skating motivated her to overcome her fear of being with other people.
Extending the sports curriculum
As a PE teacher, to be able to engage children who have low confidence or low motivation in traditional PE lessons and to suddenly find them enthused about sports, is massively rewarding. So, while it is still relatively early days, one benefit that it is immediately apparent about introducing non-traditional sports and street sports into PE lessons, is that it is certainly proving an effective way of re-engaging children and young people in health and fitness. I would encourage other PE teachers to consider extending their sports curriculum, too.
Contact details
For more information about the National Healthy Schools Programme and how it can support schools in improving physical activity amongst children and young people, please visit: www.healthyschools.gov.uk
Further information
Nine out of ten schools in England are currently involved in the National Healthy Schools Programme, with over half at full National Healthy School Status. This translates to about 3.7 million children and young people currently enjoying the benefits of a Healthy School.
The National Healthy Schools Programme is a joint Department of Health (DH) and Department for Children, Schools and Families (DCSF) initiative, which supports the links between health, behaviour and achievement through a whole child approach.
It is a successful non-statutory national programme, with 95% of schools already participating (21,023 schools). The Government has set a target for all schools to be participating by December 2009.
Fifty-six per cent of schools have already achieved National Healthy School Status (12,327 schools).
(Figures from January 2008)
Please note: * The National Healthy Schools Programme does not endorse any programme, brand or company.