Music: If you cannot teach me to fly, teach me to sing!
19 May 2008
Add to My Folder
... so wrote the author of Peter Pan – J M Barrie. Now there's someone who'd grasped the power and pleasure of singing!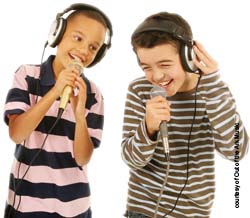 Musical publisher and production company, Out Of The Ark Music, was established on this same conviction. Here, they explain how singing is something to be actively promoted and facilitated in schools:
'In our own experience, singing has been all too often overlooked, undervalued and shied away from. Children were often made to perform patronising, poorly written songs ('It's only a children's song'), while at the same time, already overstretched teachers mostly felt inadequate to even tackle singing, let alone try and work creatively with it. For those teachers, getting children to sing felt about as achievable as teaching them to fly! But now, the Government's Music Manifesto campaign to 'put singing back into schools' has begun and the momentum for singing is rising.
Singing all day long
Out of the Ark Music's latest songbook and CD collection, Songs for EVERY singing school, seeks to harness and facilitate some of this current enthusiasm for singing. Like the other resources in the Songs for EVERY series, Songs for EVERY singing school aims to inspire children and empower the classroom teacher. It covers familiar and relevant assembly themes, and also provides songs for use in the classroom (taking the register, tidying up, and so on). After all, why restrict singing to a short assembly 'slot' in the morning? With the right materials, a degree of willingness, and a medicinal dose of regularity, singing can actually become an integral part of daily classroom routines and a dynamic feature of school life.
A singing strategy?
So, you're 'sold' on the potential of singing – but how can you begin to formulate a singing strategy in your school? For us, if you put the word 'strategy' onto anything, it instantly creates a sense of pressure. But, a 'singing strategy', from Out of the Ark Music's point of view, has to do with creating opportunities for music to work its own kind of magic.
So, let's say that we make it our job to provide the good, strong songs that are the starting point of any vibrant so-called 'singing strategy'. What can you do if you label yourself as music shy or tone deaf? We are convinced that a lot of the skills needed to make singing work in schools are not necessarily related to musical ability. Take a look at the following activities to help your school reach its singing potential.'
Activities
If You Can Walk You Can Dance
1. Look at the lyrics sheet Activity sheet 1, 'If You Can Walk, You Can Dance'. Very often songs are 'taught' in a bit of a vacuum. By this, we mean melody and lyrics are 'learned', almost by rote, (maybe in a 'hymn-practice' type setting), with no encouragement or opportunity to think about what's being sung. The intimacy of a classroom, unlike the hall, allows for a more personalised process when learning a song.
2. Explain that the title 'If You Can Walk, You Can Dance' is a proverb from Zimbabwe. What do the children think it means? Can they think of another way of saying the same thing?
3. Let the children read through the lyrics. Give them time to think the words through. Do they understand them? Invite the children to share personal experiences of doing things they thought they couldn't do. When are they most aware of saying 'I can't do that!'? So far, none of this groundwork has involved any musical skill. But it's essential for letting the children connect with the songs.
4. Before you play the song to them, ask the children what style of music they expect it will be (up-beat/slow/thoughtful)?
5. Access the Multimedia resource, 'Songs for EVERY singing school' and listen to the 'sung' version of 'If You Can Walk, You Can Dance', using the Words on Screen™ file, with the children following the lyrics. Then, sing the song together.
6. Using either your interactive whiteboard or computer, have fun pausing, rewinding and repeating sections of the song at the touch of a button!
7. Don't wait for an assembly to sing the song 'properly' – why not play it again when the children are tidying up, or coming back in from lunch?
8. Make it your 'song of the week'.
9. How about using the lyrics for your handwriting work, and decorating them? Or allocate a whole display board for the children to 'present' the song?
10. Can the children find other songs/poems/stories with a similar 'Have-a-go-you-can-do-it' message?
A taste of things to come
'These activities are simply a taster of the process of beginning to work with songs in the classroom, and the same ways of working can be applied to any strong song. Time spent with songs and singing should never be done in isolation. Singing with your children will build self-worth, confidence, and physical and emotional well-being, as well as being great fun. The benefits are certainly beyond the limits of a two-page article. As the song says, 'Just one step at a time, You won't know 'til you try!''
Further information

Mark and Helen Johnson have been writing music for 20 years. Used in many primary schools, their songs impact the lives of thousands of children nationwide. In 2007, they wrote 'Make Someone Happy!', for Comic Relief, which became the first Red Nose Day song for schools. Their songs are used in radio and television. Visit www.outoftheark.com or call 01932 232250 for details.
We're here again
'We're Here Again' is the second track from our 'singing school' project. It's perfectly suited to use in assembly or the classroom, at the start of any new day, week or term. It has a positive feel-good factor, great for inputting just the right amount of energy into things!
If using simple percussion with your children is top of your 'things-to-be-avoided-at-all-costs' list, then probably using 'tuned percussion' is something that may well fill you with horror! However, be prepared to let this song blow away all your preconceptions. This song has been written in such a way that a supremely simple, but wonderfully satisfying, tuned percussion part can be played with it!
You will need: Individual chime
Bars/xylophone/glockenspiel – use whatever you have – any will work so long as you have the right notes. For the verse, you will need the notes E and B (the lower the better, but any will work!). For the chorus, use a G#, A and a B.
1. Using the backing track only, get the children to listen. 'Active listening' will require some direction until they become familiar with the concept. For example, ask them to listen out for what instruments they can hear.
2. Invite some feedback – what instruments they could hear and how did they respond to the track generally.
3. Listen again (maybe just to the first half) – this time listening out for one of the instruments they didn't hear first time through. Encourage the children to gently tap the beat or 'pulse' with one finger onto the other hand. There are four beats in each bar.
4. Using the Multimedia resource 'We're Here Again', let the children listen to the song as you follow the lyrics. Take as little or as much time as you have/need to learn the song confidently together.
5. Next, introduce the tuned percussion. Work from a place of 'active listening'. Ask the children to listen out for the bass notes in the verses. Explain there are only two different notes played in the bass all the way through the verse – 'E' and 'B'. Get one child to play the 'E' and 'B' on a tuned percussion instrument before you listen to the track. (If using a glock/xylophone I would recommend you isolate the two notes being used by removing the ones in between.)
6. Next, let a confident child/group play the 'bass' along to the track – each note held for two beats, starting with the 'E':
We're here to-geth-er and the day is new, there's a E B E B 1 2 3 4 1 2 3 4
7. Where you have a good variety of tuned percussion, let the children experiment to see which sound best suits the song.
8. When you are happy with this section, and different children have had the opportunity to have-a-go, move on to the chorus.
9. Repeat the same process for the chorus, which has a repeated pattern throughout: G# G# A A B B B B. Listen out for it in the track first. Play it on the chime bars on their own, before playing along with the track.
Inevitably, written down on paper, this process looks a good deal more complicated than it actually is. Don't forget too, that you can divide the activities into different sessions (introduction, base, chorus) so that you don't have to tackle it all in the one lesson. 'We're Here Again' is the perfect song for having a go – but don't take my word for it – try it and see!