Promote recycling with fun activities that use the humble plastic bag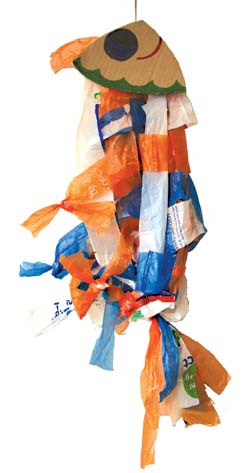 Woven fish mobiles
You will need: a selection of different coloured plastic bags; sticky tape; scissors; card; glue; thread and drawing materials.
What to do:
Each child will need four bags in a variety of colours. Remove the handles and cutting down the sides to make oblongs around 70×30cms. To save time, ask your TA to cut these lengthways into long strips roughly 5-6cms wide. Each child will need around 20 strips.
Decide on an appropriate colour sequence and place half the plastic strips horizontally in close rows on a large flat surface. Secure the loose short ends to the surface with sticky tape.
At right angles, lie the remaining strips vertically on top of the horizontal ones in preparation for weaving. Ensure that a few inches of loose ends remain on all four sides. Attach the top of the vertical strips to a long piece of card.
Thread the top strips over and under the bottom ones in alternate rows. Keep the weaving flat – not pulling too tight – and ensure that the ends are long enough on each side so as to not come undone.
When completed, remove the sticky tape securing the short ends to the work surface. Lift the card and gently fold the weaving in half (top to bottom). Remove the card and tie pairs of ends together along the bottom edge.
Carefully gather the loose strips emerging from one end (left or right) and secure these together with a big knot – leaving the ends to dangle. Secure the other ends neatly with sticky tape. The weaving should now resemble a fish, with dorsal fins composed of individual ties and a streamer-like tail made up of separate strips gathered together by one knot.
Ask the children to make a fish head out of card and glue it in place. Use thread to dangle the fishes around the classroom.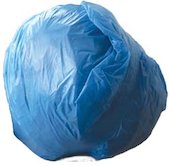 Plastic-bag footballs
Safety note:
Before undertaking an activity using plastic bags, do remember to point out the dangers associated with placing plastic bags over faces.
You will need: lots of plastic bags (ten will make a mini-sized ball).
What to do:
Make plastic-bag footballs by scrunching a bag into a ball leaving the handles loose. Wrap the handles around the ball to secure. This will create an irregular-looking ball shape. Place this in another carrier bag and repeat until a reasonably-sized ball has been formed.
Divide your class into teams and challenge them to make the best football. They should consider how tightly to pack the bags and whether to tie or wrap handles.
Weigh the plastic-bag footballs and compare with other footballs. Discuss the shape, size and construction techniques of each group and then test the balls with a penalty shoot-out. Remember, hockey and tennis plastic-bag balls can also be made in the same manner!