Prepare to laugh out loud with this selection of comedy books
The Quigleys by Simon Mason (Yearling, £4.99 PB)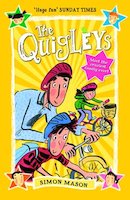 Suitable for: boys; girls; younger readers; older readers; reluctant readers; reading aloud
'Meet the craziest family ever!' implores the cover flash, but such a claim does the Quigleys a disservice. The brilliant thing about them is that they're largely normal; no stilted, sent-up stereotypes here, just a preoccupied family of four who squabble, love and wind each other up, while stumbling through each day's dreams, disasters and delights – much as we all do. The four short stories in this volume warmly celebrate the chaos of family life, and are told with charm, humour and real insight into the motivations of children and adults alike. Essential reading for everyone in the whole world!
Why eating BOGEYS is good for you by Mitchell Symons (Doubleday, £7.99 HB)

Suitable for: boys; younger readers; older readers
This absorbing anthology of unlikely information is a real treat – FACT. If only I'd owned it as a boy, I could have proved triumphantly to know-all adults things I'd only previously suspected. Eating celery is futile; you won't immediately drown if you don't wait for a meal to be digested before swimming; a coin dropped from the top of a skyscraper can't kill someone; you can drink pig's milk, and so on. The answers are explained expertly and entertainingly and leave your brain stuffed with absurd trivia. If you want to know who wrote the 'Happy Birthday' song or where the word 'bonfire' comes from – then buy this book!
Toonhead by Fiona Dunbar (Orchard, £5.99 PB)

Suitable for: boys; girls; older readers; reading aloud; more able readers
Pablo is a naïve young man with the power to draw cartoons that cryptically foretell the future. What a brilliant premise! Alas, aside from predicting wins at the races and his own escape from villains exploiting his gifts, Pablo's powers (and their possible consequences for those around him) are left largely unexplored. That small quibble aside, this is a smart comedy thriller whose likeable narrator is joined by a still more likeable talking animated cockroach, midway through, to pep things up. And as Pablo's enigmatic, psychic scribblings are included among the prose, there's added fun to be had trying to decipher their meaning ahead of being told (I failed miserably).
Don't forget, all these books can be won in our 'Giveaways' section!
The Ice Cream Con by Jimmy Docherty (Chicken House, £5.99 PB)

Suitable for: boys; older readers; more able readers; reading aloud
The title of this book is a bit of a con itself – despite the graphic of desperate kids in an ice cream van that appears at the start of every chapter, it's not until near the end of the book that we experience the titular scam. Happily, however, it's no chore turning the pages to get there. This far-fetched tale of a young council-estate teen inventing a gangster to get back at the local crime lord, who's dumped on him and his gran, is full of enjoyable twists and turns, well-executed gags and ever-escalating dangers. An ice read (ouch).
Mr Gum and the Power Crystals by Andy Stanton (Egmont, £4.99 PB)

Suitable for: boys; girls; younger readers; reading aloud; reluctant readers
'Shabba me whiskers!' The bonkers-o-meter is cranked up to 11 with this engagingly lunatic ramble through the nutty land of Lamonic Bibber. Crammed full of silly characters, outrageous similes, ridiculous events and bizarre turns of phrase, this book will amuse, bemuse and leave you chuckling about donkeys with speedboat motors on their tails, deadly hair-thieves and gingerbread headmasters with electric muscles. As a bonus, one chapter is repeated verbatim five times. Genius!
Operation Ward Ten: Agatha Bilke Strikes. Again by Siân Pattenden (Short Books, £5.99 PB)

Suitable for: boys; girls; younger readers; older readers; more able readers; reading aloud
Agatha is in hospital and in trouble. Wanted by the police, missing a vital organ, and falling for a fellow patient, she attempts escape via the operating theatre and the morgue!
Rotten School: Dudes, the School is Haunted! by RL Stine (HarperCollins, £3.99 PB)

Suitable for: boys; younger readers; reluctant readers; reading aloud
Crammed with gross-out humour, this entry in the US series sees wisecracking hero, Bernie, concoct a ghostly plan to terrorise the school bully. A final twist makes for an amusing, if slightly brutal, ending.
No Place for Magic by ED Baker (Bloomsbury, £5.99 PB)

Suitable for: girls; older readers; more able readers
The fourth book in the Frog Princess series is a fun, light adventure once it gets going. Emma and her frog-turned-prince, Eadric, must brave trolls, dragons and a drunken giant on a quest to save Eadric's obnoxious little brother.
Our reviewer


Steve Cole is the best-selling author of the ongoing Astrosaurs series (Red Fox, £4.99 PB) for younger readers, chronicling the humorous and action-packed exploits of space-faring Captain Teggs Stegosaur and his dinosaur crew. Cows in Action (Red Fox, £4.99 PB) – is another of Steve's series of books about a crack team of time-travelling bovine commandos led by Professor Angus McMoo.

Stephen has also penned various Doctor Who novels and young adult fiction titles. The first two books in Steve's new comedy-adventure series, Astrosaurs Academy – Destination: Danger! and Contest Carnage! (both Red Fox, £4.99, PB) were published in May '08.
Katie Milk solves Reality-TV Crimes by Annie Caulfield (Yearling, £4.99 PB)

Suitable for: girls; older readers; more able readers
More boarding-school scrapes with likeable heroine, Katie Milk, and her friends. The fast-moving plot features a reality-TV crew, a runaway dog, a talent contest and suspected kidnappers, with some moments of real warmth amid the hilarity.
Johnny Catbiscuit to the Rescue! by Michael Cox (Egmont, £4.99 PB)

Suitable for: boys; younger readers; reluctant readers; reading aloud
After a chance encounter with Animal Protection Man (guess what he does?), young Wayne Bunn overcomes his self-doubts and embraces a life of animal-rescue-based superheroism as Johnny Catbiscuit.