How important is it to be active in the classroom?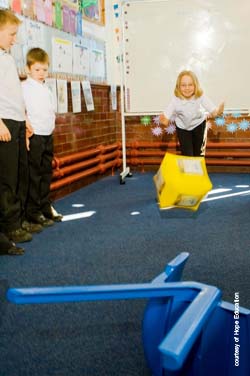 With organisations such as The National Institute for Health and Clinical Excellence (NICE) highlighting issues such as child obesity, and the Government increasing target hours for physical activity, teachers are facing an increasing pressure to educate children about leading a healthy life.
This sentiment for active learning is being reinforced by the curriculum, which means that it is becoming increasingly important for teachers to consider both the way a child likes to learn and how they can incorporate those topics that children struggle with, into fun physical activities that they are already familiar with and enjoy.
To investigate whether this is possible, and to look at how children's and teachers' attitudes are affected, leading educational resource supplier brand, Hope Education, challenged Mossy Lea Primary School in Wigan to 'Get Active' in the classroom.
Mossy Lea Primary teacher, Caroline Lamb, held an afternoon of active lessons for Years 4-6. During the 'Get Active' afternoon, the children rotated around three different literacy and numeracy activities.
Activities
All three activities were devised to teach practical lessons in numeracy and literacy, as well as to be enjoyable for the children. The idea was to keep the children engaged in the learning process while also getting them active, by creating activities that they would want to participate in.
1. Active story time
The first of the activities took a traditional literacy lesson in storytelling and transformed it into a physical activity using fun and exciting equipment. This involved encouraging the children to create sentences and stories using a 'Story Generator Cube'. Children can either roll or throw the giant cube to each other, and use the various sentence starters, character and setting prompts that the cube lands on to think creatively about suitable language to fulfill each section of their story – literally getting children to think on their feet!
Caroline compared the activity to techniques she has tried previously: 'I have used a similar activity to this in the past, but it involved writing ideas down on paper. Because there was a big blow-up dice involved and the children could roll it on the floor, they were more eager to get involved with the activity. The children thought it was great fun – and the prompts gave them scope to introduce some of their favourite characters into their stories, like Harry Potter and the Daleks from Doctor Who!"
2. A game of charades
The second activity involved using a 'Charades' game, which included cards with actions for the children to demonstrate. This is a great activity to use during literacy lessons because it involves the children asking questions and communicating with each other – and because there is an overall winner, the children are motivated to participate. Upon playing the game, the children at Mossy Lea never sat still for too long and it really helped to keep their attention – in fact most children asked to play again after their time at the activity station was over.
'The children particularly enjoyed this activity and I noticed a lot of laughs coming from that table. This activity would be great for children with communication difficulties and children with autism,' says Caroline.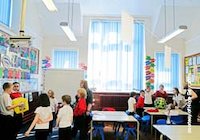 3. Catching and subtracting
The third activity was a numeracy lesson with giant inflatable 'Clever Catch' maths balls. The children loved being able to throw the ball indoors and they could relate the activity to games they would normally play in their free time. They all wanted a go at catching the ball and answering the sums. The activity involved an addition, subtraction, multiplication and division ball, so it was great for teaching a well rounded maths lesson.
Caroline was particularly impressed with how this activity focused the children's attention: 'It was great, all the children were involved and up and out of their chairs taking part in a lesson, which may have ordinarily involved sitting and looking at the whiteboard. They couldn't wait for their turn and were all asking 'can I do it, can I do it?''
Caroline adds: 'These activities would also be perfect to take outdoors. We often find that an outdoor lesson can increase children's concentration and these resources provide an ideal opportunity to create a stimulating lesson both indoors and outdoors.'
A place for fun
The National Board for Professional Teaching Standards states that a classroom should not only be a place for teaching, but also a place for fun. Furthermore, the Board states that learning can often be more effective through play. This is because active learning helps children to acquire knowledge and skills outside of books.
Active learning
Keeping children active in the classroom helps teachers to fill the national quota for physical activity, but it can sometimes seem quite a challenge to cram it all in, with all the other lessons they need to do every week. The activities undertaken by Mossy Lea are a great example of ways to combine the two and also demonstrates the ways in which traditional lessons can be applied though active and fun activities. This can often be more effective than children simply reading or sitting and writing at their desks.