Encourage the children in your class to continue reading over the summer with the 2016 Summer Reading Challenge – The Big Friendly Read.

We all know that children's reading can 'dip' during the long school holidays. But the annual Summer Reading Challenge, created by national charity The Reading Agency, gets a whopping three quarters of a million children into libraries each summer, keeping up their reading skills and confidence. For children aged between 4 and 11, there's a summer adventure waiting for them, and there are lots of resources available to help you get them enthused and excited about the Summer Reading Challenge before term finishes.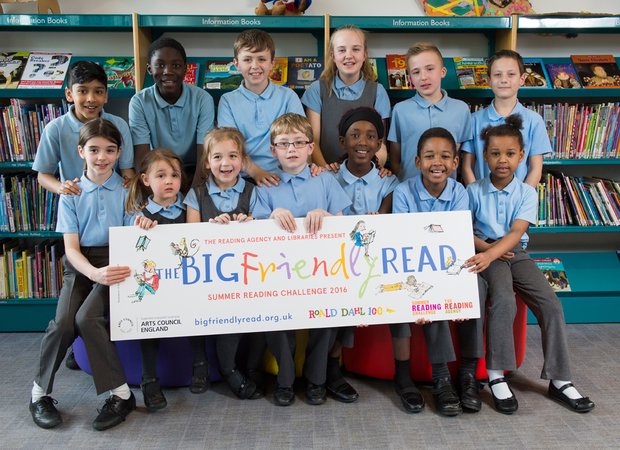 The theme for the 2016 Summer Reading Challenge (or the Tesco Bank Summer Reading Challenge as it is known in Scotland) is The Big Friendly Read, linking up with the global, year-long Roald Dahl 100 celebrations to honour the world's No.1 storyteller. It will feature some of Roald Dahl's best-loved characters – giants, cats, ghosts and many more – together with the amazing artwork of his principal illustrator, Sir Quentin Blake. Invention, mischief and friendship are all topics explored in both Roald Dahl's books and The Big Friendly Read, which will encourage your pupils to expand their reading by exploring similar themes across the best contemporary writing for kids.
Here's a selection of Summer Reading Challenge resources for you to use in the classroom. Just click on the images to download them. There are lots on offer – we've got a family leaflet, a selection of Roald-Dahl-themed lesson plans, a schools pack containing loads of different resources to help you get started, an assembly slideshow and a slideshow for school staff.
Children can read whatever they like to complete the Summer Reading Challenge – including fact books, joke books, picture books, audio books – just as long as they are borrowed from the library. There's even a special online Book Sorter where they can find books recommended by other readers of their own age, and chat about their own favourites.
Or they can have a browse through the 72 titles in the Big Friendly Read book collection. There are two lists – one for younger children (four to seven years) and one for older children (eight to 11 years). Many of the books are new reads which will be published this summer, and many of them will be displayed in libraries while the Summer Reading Challenge is running.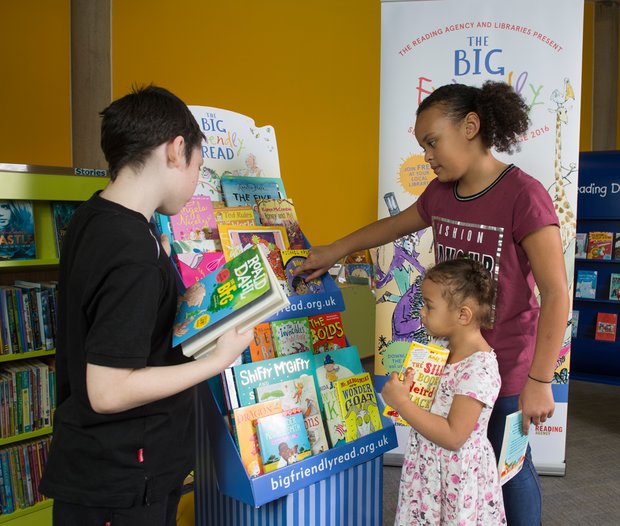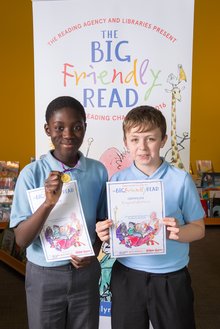 Every time a child finishes a book they'll get stickers and rewards and there's a certificate for everyone who completes the Summer Reading Challenge. It is open to all school children of all reading abilities – they can sign up at their local library as the school summer term ends and the holidays begin. There is no charge for them to participate.
Most libraries also run Summer Reading Challenge activities for pre-schoolers, and there are staff on hand to offer advice and support. Visit the Summer Reading Challenge website for more information about how to sign up.
"As seven year old Ruby and I walked to the library, I told her that the Summer Reading Challenge involved reading six books during the summer holidays. My normally polite daughter replied: 'Well, you can forget that!' But, having been cajoled into borrowing one book, she was so thrilled with the sticker she received when we returned the following week that she couldn't wait to borrow a second book. Within a few weeks, she was nagging me to take her to the library so that she could read more books – a 100% turnaround in her attitude! Hooray for the Summer Reading Challenge – she already can't wait to get started this year".




Kate, parent, London.
Because everything changes when we read.
Other useful websites
The Big Friendly Read schools resources page is here.
The Summer Reading Challenge teachers info page is here.
The schools pack is here.
You can watch the Summer Reading Challenge trailer here.