Why not test out these taster resources Sustainable Learning? There's something for everyone there, from D&T lesson plans, to entertaining videos about food waste and the plight of hedgehogs in the UK! Children can even learn how to make their own computer game.

Created by and for teachers, the Sustainable Learning website was inspired by Bristol's year as European Green Capital in 2015. Funding from the Department of Energy and Climate Change allowed them to continue the legacy of that very special year with their website, connecting teachers with high-quality curriculum resources, expert knowledge, fieldtrip locations and upcoming events.
On their site, you'll find teaching inspiration from hundreds of free lesson plans and resources for every subject, all designed to meet curriculum objectives whilst exploring environmental themes and sustainability. The website also includes the award-winning online educational game 'Sustainable Shaun', a city building computer game with Shaun the Sheep. You can play a 'Visit the classroom' version of the game 'mission mode' on the site, which hosts short sections of the game along with a host of complementary lesson plans ranging from one-off lessons through to a whole term's worth of project work.
Try out the taster resources below and then visit www.sustainablelearning.com to find out more.
Suitable for Years 5/6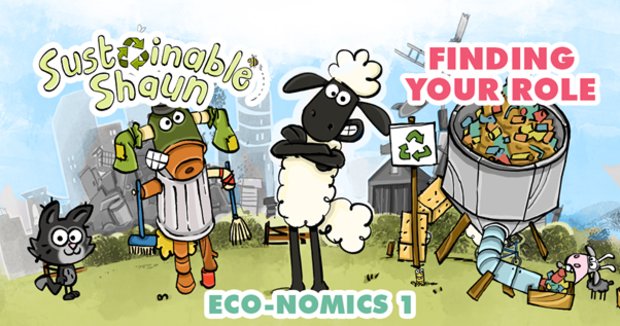 Eco-nomics is a fantastic young enterprise project exploring sustainable products. If we want pupils to be ready for the world of work in the future, then it's important to teach them about commerce and enterprise from an early age. That's why this brilliant enterprise project has three main goals:
To develop children's leadership and team-working skills
To educate pupils about entrepreneurship
To promote sustainable consumerism.
Linked with the 'Clothes Drive' Mission of Sustainable Shaun this ECO-nomics challenge is designed to run over a series of lessons with eight tasks, all with associated plans, resources and covering national curriculum objectives.
In this first lesson children will look at different roles within the team, apply for a position and formulate a team as part of an English lesson. Children will work in teams to research, design, make, sell and evaluate a sustainable product. All learning materials are adaptable, and designed to fully support the Key Stage 2 National Curriculum. Ideal for a class or eco-team project, ECO-nomics will challenge your pupils to make money whilst saving the planet at the same time!
To explore the other materials, lessons and resources please visit the Eco-nomics area of the Sustainable Learning website.
Suitable for KS2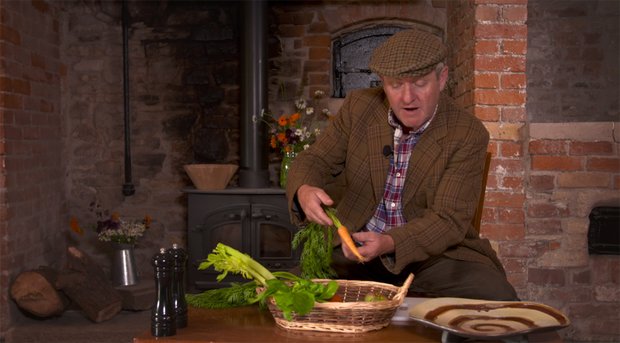 Meet Farmer Jack! He's got some fascinating stories to tell, all about growing and eating delicious fresh fruit and vegetables. In this video, Farmer Jack shows us how to make a super salad, with an interesting twist…
As well as being a great standalone resource, the Farmer Jack films can be used to inspire different areas of learning. After watching this video, why not encourage pupils to apply what they've learned? As Farmer Jack tells us, we should waste not, want not: food waste is bad for our planet, so it's important that we eat as sustainably as possible. We can do that by including lots of local, seasonal produce in our diet, but we should try and use as many different parts of a plant as we can to avoid waste!
Challenge your pupils to make a creative salad using every part of a plant, and including at least 1 ingredient they've never tried before. This recipe is a great place to start developing children's cooking skills, and who knows where they might end up…
Follow Farmer Jack on his journey by watching the rest of the fabulous food films on the website.
Suitable for KS2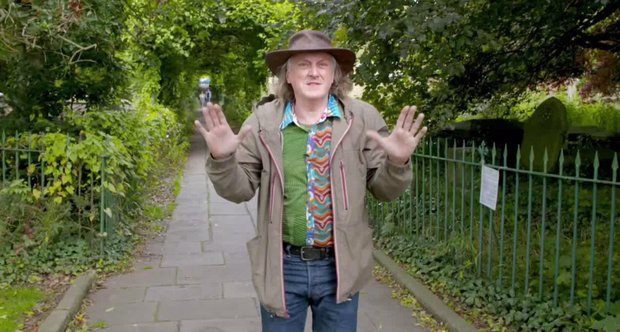 With this video, your class can join poet Martin Kiszko as he investigates the plight of our poor prickly pal, the hedgehog! Children will learn about this species' struggle to survive in the city, and how the hedgehog population is in dramatic decline. Short and snappy, it's a great accompaniment to any science lesson about living things and their habitats, as well as great inspiration for different kinds of writing. Why not challenge your class to compose their own food hedgehog poems too?
Suitable for KS2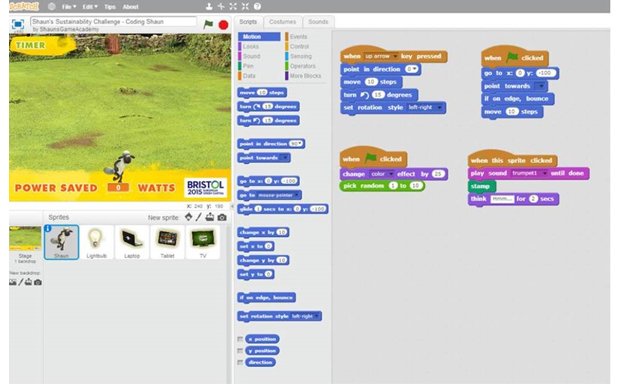 In this Scratch computing lesson, designed by Sustainable Learning with expert help from Aardman Animation and Code Club, you'll learn how to make your own computer game! Guide Shaun the Sheep around a virtual world using programming instructions, exploring energy-hungry appliances and learn how you can live in a more sustainable way.
You'll direct Shaun to combat household appliances and switch them off to save energy. The aim of the game is to save 1000 Watts as quickly as possible! We can all help the environment by making an effort to use less energy at home, and this workshop will show you how to do just that – with Shaun's help, of course.
There are three different modules, each one should take around 60 minutes to complete. Click here to access the Scratch project. You can also download step by step guides and resources by clicking here.