Practice makes perfect – or does it? Despite your best efforts, there are a multitude of factors to consider in pursuit of the perfect lesson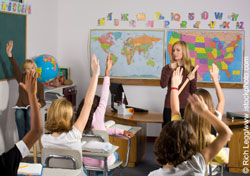 Imagine that you have just completed a brilliant gymnastic display in the Olympics. To roars of applause, you score a perfect ten. Perfection. No one could possibly leap higher, stretch further, curl tighter or look more elegant. Hold on a minute, surely someone, somewhere might? Perfection by definition cannot be improved upon, so reflect for a moment and you will realise that the perfect lesson that I am going to write about doesn't really exist.
Suspend your disbelief and think about when you might just need that 'perfect' lesson. Certainly not during the day-to-day teaching that constitutes most of your termly toil; for the time and energy repeatedly required to set up such lessons could only be at the expense of all the other lessons that you have to teach. Striving for continual perfection may be laudable but you cannot let the perfect be the enemy of the good.
Whatever else is involved in the perfect lesson, it must include teaching. Yet there are necessary and legitimate periods in the classroom when little teaching, in the sense of directing children or imparting information, actually takes place. Think about the times when children are hard at work completing tasks previously set. So the perfect lesson is not for those occasions either. It has to be special, like new underwear, to be brought out and used when you fear you might be run over by a bus.
Bring out the special lesson when Ofsted comes a-calling
Bring out the special lesson when Ofsted comes-a-calling (any similarity between being flattened by a juggernaut and an Ofsted inspection is purely coincidental). Also whip out that special lesson of yours when you are under particular scrutiny by visitors or the head, or when you are required to 'perform' as part of the job interview.
Teaching for Ofsted and teaching for a job are two different things. Inspectors have a clear agenda and tick lists to which you must try to work towards, whereas lay people will have a different perspective. For the professional performance, you will need to go back to the sort of planning your tutor required when you were training. You need clear and achievable aims: don't expect to be able to teach your class all there is to know about double decomposition in 30 minutes. For the purpose of the audience, it is best not only to have aims that you can achieve, but ones that you can show have been achieved. Spell out to the class at the beginning what they will be learning and what they will know or be able to do by the end of the lesson. Think about how you might demonstrate that learning has taken place.
Work out the steps that you are going to take to achieve your aims and check thoroughly that all the required equipment is available and in working order; even Rembrandt couldn't work when he ran out of paint. Exclude frivolity from your planning. A student friend set down as his lesson aim, 'To gain control of the class' and his apparatus as '25 crucifixes'. He failed.
If you are teaching an entirely new topic, check for prior knowledge. If you are teaching about China, first ask the class what they know about China. You may get some useful contributions on which you can build, even if this may mean that you have to modify your approach. The perfect lesson doesn't follow the perfect plan: serendipity is a wonderful thing and adaptability a desirable attribute of the perfect teacher.
The path to perfection lies through language and how you use words
You may feel inclined to bring out lots of impressive apparatus or do flashy tricks to complete your perfect lesson but, in fact, the path to perfection lies through language, how you use words, how you pose questions, how you interact with children. Avoid questions that elicit one-word answers. Don't cut children short when they are responding to you. Listen to their answers. Even when the answer is incorrect, be prepared to ask, 'How did you get that?'. Encouraging children to make explicit their thought processes is a powerful learning strategy.
That job interview demonstration lesson will be a little different. You are under scrutiny rather than your teaching, and parent governors in particular will be thinking, 'Would I want this person to teach my child?'. You need to be calm, in control and full of cheerful good humour. Don't try desperately to make the children like you, just do your job as effectively as you can, smile a lot and try not to sweat. Once again, your verbal exchanges with the children are likely to be the key to your success or failure. But if you have a flashy lesson up you sleeve (tried and tested) then now is the time to use it.