Early years practitioners need more confidence in using technology to develop children's literacy

Technology is part of everyday life and many toddlers are using touchscreens almost before they can walk and talk. A new survey from the National Literacy Trust and Pearson shows almost all families (97%) own tablets or smartphones. Access to touchscreens in Early Years settings has increased too, from 41.4% in 2014 to 58.2% in 2015. However, the survey also shows that Early Years practitioners lack confidence in using technology.
The third annual Early Years Literacy Survey: The Use of Technology to Support Literacy in the Early Years found fewer practitioners used touchscreens to share stories in 2015 (40.8%) than in 2014 (49.1%). Of these, only half (55.1%) are confident doing so, compared to 82.2% who are confident using books.
Although technology alone does not make a difference to children's learning and is no substitute for adult interaction, touchscreens can play an important role in supporting early communication, language and literacy by offering new opportunities. The interactive nature and sensory stimulation of technology can help young children to learn in new ways alongside books with careful planning by Early Years practitioners to achieve specific learning goals. In addition, research has found that technology can provide an important route into reading for certain groups of children, such as those from disadvantaged backgrounds and boys.
Now is therefore an important time for Early Years practitioners to adapt their teaching methods to help prepare children for an increasingly digital future education. To help practitioners to increase their confidence in using technology, the National Literacy Trust has created a range of resources as part of its Helping Early Language and Literacy Outcomes (HELLO) programme. Funded by the Department for Education, HELLO worked with practitioners in more than 70 Early Years settings across the country to look at how technology can help to develop pre-school children's early communication, language and literacy skills.
You can find a full library of resources on the National Literacy Trust's website, but in the meantime we're hosting a few of our favourites here for you to download.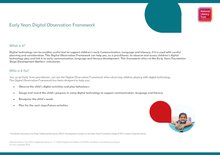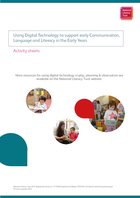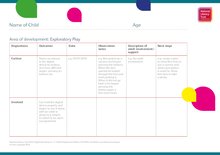 Check out the Digital Observation Framework , which can help you, as a practitioner, to observe and assess children's digital technology play and link it to early communication, language and literacy development. It contains clear links to Development Matters alongside detailed notes on the types of observations to look out for. We've also got a blank version of this for you to complete yourself. Don't forget to take a look at the activity sheets as well. They're full of activity ideas, as well as hints and tips for creating enabling environments and positive relationships using technology. All the sheets are themed around using digital technology to support communication, language and literacy development.
As part of the HELLO programme, the National Literacy Trust has also produced video case studies for practitioners showcasing best practice on using touchscreens. We've got a few examples for you here.
This first video gives advice about the types of technology you could use in your setting. Just something as simple as a video of Tim Peake in space could have a massive impact on your children. Don't be afraid if the children know more about technology than you – in fact, making them aware of this is a great way to boost confidence and self-belief.
Using digital technology in the early years: Enabling Environments from National Literacy Trust on Vimeo.
This next video is all about supporting home learning. Organise parent workshops and share information about the best learning apps out there. You never know, you might learn something from the parents. It's important to focus on the content and technologies that are engaging children both at home and in your setting.
Using digital technology in the early years: Partnership with parents from National Literacy Trust on Vimeo.
And finally, this last video is all about using digital technology for observation and asessment. The setting in this case study was told by Ofsted that practitioners were spending too much time 'cutting and sticking' when creating a memory book for parents. Take a look at the digital solution they came up with…
Using digital technology in the early years: Skilled practitioners from National Literacy Trust on Vimeo.
You can take a look at many more videos from the National Literacy Trust here.
The National Literacy Trust has also developed LiteracyApps.org, a guide to choosing apps to help develop children's early communication, language and literacy, broken down by age range and interest, as well as a video for parents offering guidance and tips on using technology to help their child learn.
"Technology is everywhere and young children are increasingly using touchscreens which can now be found in almost every family home. However, Early Years practitioners are not using technology to the same degree as parents and only half are confident in doing so to develop children's early communication skills. Our research shows practitioners are less confident using touchscreens than books to share stories with children, although using technology can particularly benefit boys and children from disadvantaged backgrounds.




Now is an important time for early years practitioners to look at how they can support children's future learning in a digital age. To increase practitioners' confidence in using touchscreens and supporting parents with using technology, we have designed a range of exciting new resources including videos for practitioners, activity sheets and the LiteracyApps.org guide and video for parents which are all available on our website and Network."




Charlotte Billington, Early Years Project Manager at the National Literacy Trust
You might also be interested in the National Literacy Trust's Words for Life site, which helps parents to understand and fulfil their role in supporting their child's literacy development from an early age. The website features tips, developmental milestones and literacy-boosting resources.
The National Literacy Trust is a national charity dedicated to raising literacy levels in the UK. Their research and analysis make them the leading authority on literacy. They run projects in the poorest communities, campaign to make literacy a priority for politicians and parents, and support schools.
Visit www.literacytrust.org.uk to find out more, donate or sign up for a free email newsletter. You can also find them on Facebook and follow them on Twitter.