Thirty travel-sick children all want the loo, the coach driver has lost his way and Jemima has forgotten her packed lunch – sound familiar? Help is on its way…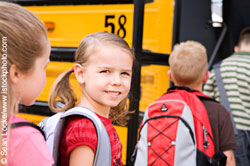 The issue of school visits is very much in vogue at the moment – mainly because of the irrational fear about children's safety outside of school. While this is important, it should not make you (or the children) too scared to ever venture out of school again. School trips are a valuable part of a child's education, providing experiences that they will remember for the rest of their lives. After all, you can still remember your school trips, can't you?
So the children love school trips, but what about the teacher? Even seasoned pros can dread organising these kind of events. They're stressful. Very stressful. There are a million-and-one things to think about – things you might not consider when you're travelling on the bus or tube on your own, but with 30 very excited children… well, that's a whole different ball game. It won't be easy.
Where to go?
Wherever your school is located, there will always be places of interest nearby. Word of mouth will help you to find the best place. If you live in or near a city, 'the world is you oyster'. Some schools even take their classes abroad, though – from experience – don't ever take 30 children on an aeroplane. It's bad enough flying on your own, without several others being airsick and tapping you on the back of the head every two minutes.
If you're sill stuck for inspiration, then boot up you computer and type 'school trips' or 'educational visits' into a search engine such as Google – you're sure to find plenty of suggestions through the web.
Essential planning
Write a proposal covering where you want to go, what the children will learn, how they will get there, and how much it will cost. Discuss it with your head teacher or mentor.
Go on your first couple of trips with another class. That way, another experienced teacher can demonstrate the dos and don'ts.
Don't do anything too expensive.
Investigate whether the travel or the entry fee is free or subsidised.
Have at least one adult to every six children. (For very young children I would always aim to take more than this.)
If you have any children with behavioural difficulties, have a one-to-one helper or carer on hand.
Reduce the need for the children to bring spending money – 30 children in a gift shop is horrible. People stare, don't understand, and old ladies rant about 'the children of today…'.
Reduce the need for the children to bring in loads of food. There is always one child whose flask spills sticky orange juice and/or is sick on the way home
Whenever possible, hire a coach. This is more expensive but less hassle in the long run.
Make sure that the trip lasts for an adequate amount of time. There is nothing worse than going somewhere for the day and being finished by 10.30am.
Top tips
1 Take your most 'demanding' child by the hand – literally. This will be the one who is most likely to eat a drawing pin, attempt to run away, punch someone, deface a valuable piece of art, or attempt to steal a penguin. Keeping them next to you at all time is simply a case of 'damage limitation'.
2 If possible, wear the children out (if exercise doesn't work, then maybe the sound of your voice will). This makes for a wonderful and peaceful return trip home.
3 It is really important that you think about safety. If you have to walk, make sure that each child has a partner and bellow at them intermittently to hold hands.
4 Avoid traffic by walking along the inside of the pavement. Some pedestrians will smile and say hello, while others will not care if your little ones are booted out into the road.
5 Take a short well-earned break before you plan the next one!
Getting organised
Write a letter to parents and carers detailing everything – when, where, who, what, why, how. Your school should have an existing format to copy.
The day before, remind the children until you are blue in the face about what they need to bring. They may nod, they may even look as though they are taking notes. But trust me, children have mastered the skill of looking like they are listening. Remind them again – and then again, until they beg you to stop.
On the day, make sure that each and every child goes to the loo beforehand. Once you are out on the road, it is very difficult to stop. And when one wants to go, they all want to go.
What you should pack in
YOUR

bag
A spare lunch.
Some extra cash.
A mobile phone.
Contact numbers for the school, the children's parents – and the Samaritans!
A copy of your itinerary.
Directions to your venue (optional, but sometimes worth it, particularly if you ever get some of the coach drivers I've had…).