Combine coverage of the History and Science programmes of study with this intriguing article.
Biography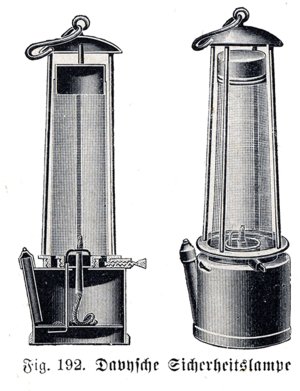 Humphry Davy was born in Cornwall in 1778 and worked first as a chemist in Penzance. Later he moved to London to become assistant lecturer in chemistry at the Royal Institution, where his talks on science became very popular with members of the public. Davy, who was also a keen fisherman and artist, discovered a number of important chemicals including calcium, sodium, potassium, magnesium and chlorine. He became a member of the Royal Society in 1803 and was its President between 1820 and 1827. He was knighted for his services to science in 1812 and became a baronet in 1818. Davy died in Geneva, Switzerland in 1829.
The Safety Lamp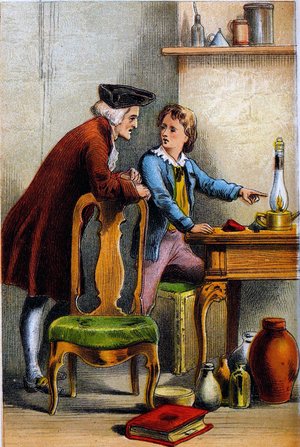 Following a mining disaster at Felling on the River Tyne in 1812, when over ninety miners died, several scientists including Davy began to investigate the development of a safety lamp that could be used underground. At the time, flammable gases like methane often filled mines and an explosion could easily be sparked off by the candles the miners carried to light their work. Davy worked on his safety lamp during the second half of 1815 and it was first tested at Hebburn, County Durham, in January 1816 – two hundred years ago. One of the prototypes of the lamp can be seen on display in the Faraday Museum at the Royal Institution in London.
Classroom activities
Using a large photograph, picture or possibly a replica model, make a fully labelled drawing of a Davy Safety Lamp.
Powered by oil, note a thin gauze sleeve surrounds the flame. This acts as a flame resistor. Air and any other gas present can pass through the mesh to support the flame, but the holes are too fine to permit the flame to go through them and ignite outside the mesh. It's all about stopping the flame going out rather than the gas coming in. If flammable gases were present the flame in the lamp burned higher with a blue tinge and a metal gauge recorded the height of the flame. The lamp proved to work well, although the gauze was fragile and easily broken and the flame produced poor light.
Use different sources to research what life was like for children who worked in the mines of Victorian Britain. Why was coal so important then? It was not until 1842 that a law was passed barring women and girls from working in mines and to prohibit the employment of boys under ten.
Write a diary from the perspective of a child mineworker.
Stage a role play in which a factory inspector interviews a child worker about life underground.
Write a front page newspaper account of a mining accident in which workers, including children, are injured or killed.
As a chemist, Humphry Davy was responsible for isolating a number of important metals and gases. Find out more about the properties and uses of the following chemicals that are given with their official symbols: Sodium (Na), Calcium (Ca), Potassium (K), Magnesium (Mg) and Chlorine (Cl).