The benefits of Early Years Teacher Status – from nursery leaders' perspectives.
Nurseries are the foundation of a child's education. It's not just the place they often first learn how to spell and count – the building blocks they need for primary school – but the environment in which they start to develop their core skills like imagination, creativity and social interaction. In fact, a child's early years in education are some of the most crucial to their development – and the people responsible for their learning, their teachers, really do have the ability to make a huge, lasting impact.
Sarah Steel
As the Managing Director of The Old Station Nursery Group, which operates across Oxfordshire and Gloucestershire, Sarah Steel is lucky enough to work with some fantastic teachers that each have a vast amount of experience in working with pre-school children. As part of her 90-strong workforce, Sarah has found it particularly valuable having members of staff with Early Years Teacher Status (EYTS) – a nationally recognised status that helps to increase standards across the board.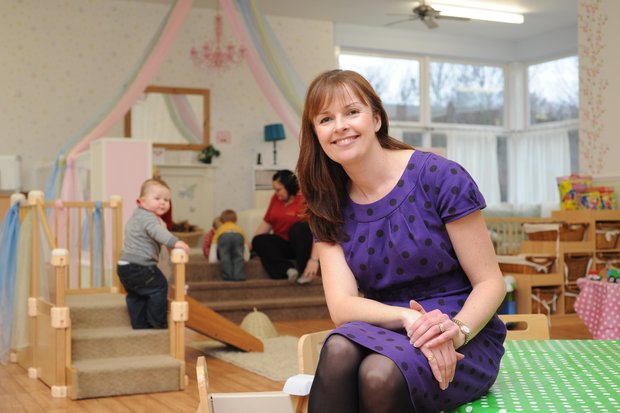 Individuals who have undertaken Early Years teacher training bring an outside knowledge and experience to nurseries, and have a really positive impact both on the children and other staff. In fact, Sarah says that employing Early Years teachers has really helped to give everyone a sound understanding of Early Years education. For example, her current nursery manager, who has EYTS, has brought extended knowledge and confidence to the role.
The value of Early Years teacher status can be in the form of both theory and practice, such as implementing modern thinking and innovations to help children get to grips with numeracy through play, or in the application of leadership and management skills – like introducing apps for parents to monitor their child's progress and share feedback. It's for these reasons that Sarah regularly takes on employees with Early Years teacher status as part of a team who look after 350 children across all the nurseries.
One of Sarah's teachers – a mum of five – recently gained EYTS following the completion of her Early Childhood Studies degree and Early Years teacher training, whilst working full time. Sarah believes that she has become a great role model and source of information for the rest of the team, and is currently using peer observation to develop a culture of continuous improvement across the group.
Lynne Branson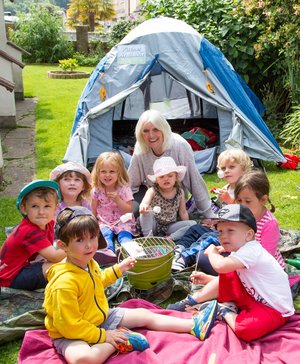 Lynne Branson is Head of Setting at Ashton Vale Pre-School in Bristol. During the past three years, she has so far taken one Early Years initial teacher training student on placement. This year, Ashton Vale also supported one of their graduate employees through their Early Years teacher training, now almost completed. Her graduate employee had no relevant childcare qualification, so following her degree in photography and her excellent childcare skills demonstrated during her part time work at the pre-school, she embarked on the Early Years teacher training.
Lynne commented:
"As the Head of Setting I recognise that whilst those holding a Level 3 qualification are highly skilled they do not always have the qualities that a graduate can bring to the setting in the form of reading, understanding and disseminating information when faced with report writing, quality assurance and legal requirements, as well as introducing new strategies and concepts into the setting. Because there is a real understanding of the different strategies in the Early Years Foundation Stage framework, all practitioners benefit from a greater understanding of the principles which in turn provides excellent outcomes for our children."
Miriam Caldecott
Miriam Caldecott, of Cowcliffe Pre-School in Fixby, says Early Years teachers can help play a vital role in helping to give children the best start in life. Miriam says: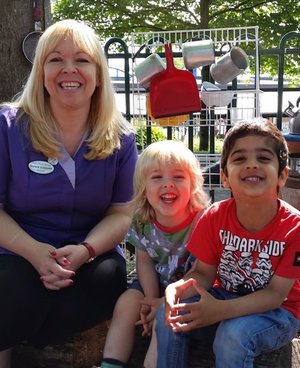 "Studying to become an Early Years teacher gives you a much deeper understanding of children's education. I've been in the profession for 26 years, yet since becoming an Early Years teacher I have understood much more than I did before about how children learn, and how to enhance this experience. There are clear standards and guidelines and, having graduated, you understand children's development better. This means you are able to deliver better age-appropriate activities. It is hard work, but very rewarding."
Kathryn Yiannidji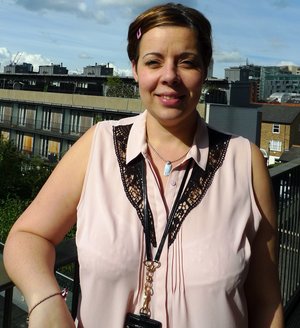 Another Early Years setting manager who truly appreciates the value of Early Years teachers is Kathryn Yiannidji. Kathryn is Head of Early Years Education at Coin Street Nursery in the heart of central London. Her background is as a primary school teacher and she became an Early Years Advisory Teacher, supporting PVI and maintained nurseries, before moving to Coin Street. She currently employs one staff member with Early Years professional status, and has another staff member currently working towards EYTS.
Kathryn strongly feels that any additional qualifications which broaden staff knowledge and experience directly impacts on the children, and believes that keeping up to date with current thinking is important. Kathryn also believes that seeing the company's commitment to further education gives other staff the incentive to continue training. Providing staff with an opportunity to make changes, adapt practice and feed into the development of the setting is not only important, but makes a positive difference to discussions, meetings and to any changes that are made within the nursery setting.
Kathryn believes having qualified Early Years teachers helps all staff to have a better understanding of other settings, and be more aware of school readiness – they know how to research new information and ideas, which is of benefit to everyone.
Training routes
Having seen the benefits that Early Years teachers can bring to a nursery, Sarah Steel decided to become qualified herself, and is currently undertaking her Early Years teacher training at Gloucester University – for which her course fees of £7,000 are covered by government funding. Sarah says she is looking forward to bringing the new methods and techniques that she is learning on the course into her workplace and her international Early Years consultancy work in India, Dubai and China – and sharing this knowledge with her colleagues there.
There are four training routes available which all lead to the award of Early Years teacher status (EYTS), including a route for graduates already employed in an Early Years setting who wish to progress in their career and become an Early Years teacher. Course fees are paid on this employment-based route. In addition, for each trainee there is an extra £7,000 available to their employer. This could help the employer with costs such as supply cover whilst their employee attends training days or has placements in other Early Years settings. Employees with the status really have been shown to make a lasting, positive impact on young children's wellbeing and progress, at the most crucial stage of their development.
By many accounts, achieving EYTS gives a real feeling of professionalism to nursery staff, increasing their confidence and giving them the ability to promote excellent practice in the future, as they know that they are doing it 'the right way' and have authority to share this knowledge with colleagues. All staff benefit as a result of colleagues achieving EYTS, and many nurseries are encouraging more to continue in this direction, to further improve outcomes for children.