What are the pros and cons of mainstream and special schools for children with multi-sensory impairments? Colin Anderson, Publishing Manager from Sense describes some of the main factors.

The debate about `inclusive' education arouses strong emotions.
Some argue passionately that all children should go to mainstream schools – regardless of their level of disability. They believe that including disabled children in ordinary schools, when well-resourced and managed, benefits all children.
Others argue that it is not as straightforward as this and that children with complex needs will often need the facilities and teachers that a special school can provide.
One of the key factors in finding a school for a child is the nature and severity of their disability. Sense supports children with a wide range of difficulties, and has many years' experience of supporting children with a combination of sight and hearing impairments – also known as deafblindness. Many children will also have other physical and learning disabilities to deal with and may have fragile health. These children are described as having multi-sensory impairments (MSI)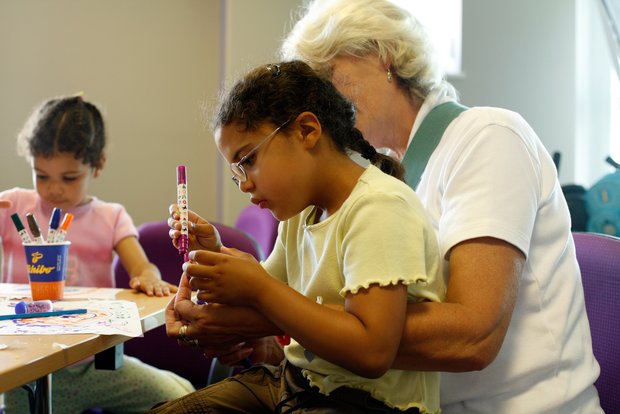 .
Sense also supports children who are born deaf or hard of hearing, and then develop tunnel vision and night blindness in their teens as a result of a condition called Usher syndrome.
For the parents of the children that Sense supports, their choice will usually be guided by practical considerations – they simply want to find the best school for their child. They may have a personal preference for a mainstream or special school but their decision will be affected by many factors – by their child's disability, by the quality of the schools available locally, by the attitudes of teachers and how much funding for support they can get.
In practice?
In the UK there have been many milestones on the journey towards inclusive education, although many would say that the destination is still some way off. The recent Children and Families Act 2014 includes the presumption that children should be included in mainstream education wherever possible. As part of this, special educational needs statements and learning difficulty assessments were replaced with Education, Health and Care Plans covering young people up to the age of 25.
But what does inclusive education mean in practical terms? Should it mean that the preference should always be that children with special needs attend a mainstream school alongside all other children? Or is it more a question of finding the setting that is right for the individual child – and ensuring that that child is included in school and community life as fully as possible? There are no straightforward answers to this.
All sorts of schools
It can also be misleading to divide education strictly into `mainstream' or `specialist' as the landscape is often more varied than that. Some children, often those with less challenging disabilities, are fully integrated into mainstream schools, usually with some sort of support. Others attend special units within a mainstream school (such as a deaf unit) and attend a mixture of fully integrated and specialist classes. Some children, especially those with more profound disabilities,will attend a special school, some of which are residential.
Much will depend on whether a school wants to support a particular child. If it already has experience of supporting a child with special needs that can make a difference. A lot also depends on what schools are available locally, how much funding the local authority will provide, and how much the parents are prepared to battle for their child.
Levels of support
Almost all of the children supported by Sense will get additional support in the classroom – whether they attend a mainstream or specialist school.
In mainstream settings, many of the children who Sense supports will receive one-to-one support from an Intervenor. Intervenors help the child to experience and join in the social and learning experiences in school as much as possible. Children may also receive support from a range of other visiting professionals such a speech and language therapists and health visitors.
In special schools the teachers will have experience, and usually training, in working with children with special needs, but will not necessarily have expertise in multi-sensory impairment (MSI). Other support staff, such as physiotherapists and speech and language therapists are often available on site.
Both settings may call on the support of advisory teachers for vision impairment, hearing impairments and sometimes multi-sensory impairment (MSI). Pros and cons of mainstream schools
One of the advantages of mainstream schools is that they tackle the problem of the segregation of children with disabilities and their families. They are accessing the same services, and have the same rights as everyone else.
Many practitioners and families also comment on the social benefits of attending a mainstream school, where children with special needs may have more opportunities to make friends and learn from the children around them – and vice versa. They have also observed that children with special needs may achieve more academically in mainstream settings.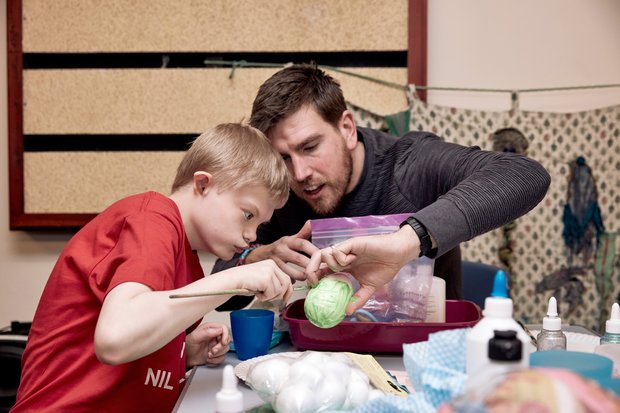 On the downside, one of the most common criticisms is that children with very particular needs, especially with more profound disabilities, often don't get the support they need – and that it is hard to adapt the curriculum to a class with a very broad range of abilities. It can be difficult and time-consuming for teachers to organise, and they may not have the skills or training they need to do this properly. The school environment may also not be suitable, and paradoxically, children may be more isolated in a mainstream than a special school because of the high level of adult intervention they require. Many MSI children who begin in mainstream schools do in fact transfer to special schools, especially at secondary level.
Case study – Harriet
Harriet, aged six, attends a mainstream school. She has a hearing and vision impairment, struggles with her balance and tires easily – but is doing well.
The school Harriet's parents chose already had experience of supporting children with additional needs – including some partially sighted and deaf children, and the Head Teacher and Special Educational Needs Coordinator were very supportive.
Harriet has done better than her parents expected, including academically – although they say that "she will always be towards the bottom of the class." She has full time support from an Intervenor and an hour a week with a teacher of the deaf. Although her parents say that she is "socially different" from the other children, she has made friends and they are very glad they chose a mainstream school for her.
Pros and cons of special schools
The environment that suits each child will depend on their particular needs. In a special school there will be smaller class sizes and probably a better environment, with resources such as hoists, toilet facilities, wide corridors and perhaps a hydrotherapy pool and small class sizes.
Many, but not all, teachers will be trained in special needs, although they may not have been trained in MSI – and a child may not be able to get an Intervenor as they would in a mainstream school. Staffing levels vary, but the school may have specialist staff such as physiotherapists, occupational therapists, and speech and language therapists on site.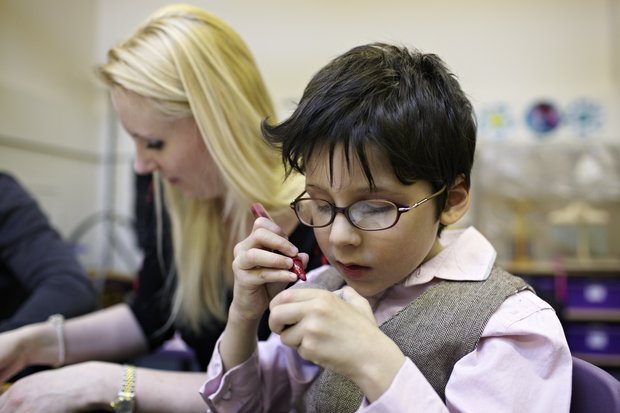 It can also be easier for the curriculum to be adapted to the particular child. Some children in mainstream schools can really thrive and grow in confidence, but others may feel overwhelmed and compare themselves negatively with their peers.
Having said that, some professionals do express concern that there may be lower academic aspirations at a special school and some children might not be stretched enough
There is also no doubt that children who attend special schools, and their families, can lead something of a separate existence. This especially applies to children who have to travel some distance to school or go away to a residential setting.
Case study – Simon
Simon, aged eight, is deaf with sight in one eye and has a wheelchair so that he can move around. He has attended a special school since he was two which, his parents say, has worked out well for him.
His parents found it very painful to realise that he would not be going to a mainstream school but they, and Simon, are now very happy with the specialist schooling he is receiving. His physiotherapist has helped him a great deal and he can swim now on his back. Although he does not communicate his parents say that he is much calmer and they can understand what he needs much more.
What suits the child
If there is one thing that comes though strongly from parents and professionals it is that one size doesn't fit all. The children that Sense supports have such a wide variety of challenges, talents and personalities that to be overly prescriptive about where they should go to school seems unhelpful. What is heartening is that, despite all the challenges and drawbacks, many children with MSI are making good progress, enjoying their school days – and making their parents proud!
For more information visit: www.sense.org.uk , or contact Sense's Information Team: 0300 330 9252 info@sense.org.uk
Please note all names have been changed in the above case studies.