The UK's leading pupil-led online-safety education programme
The eCadet scheme is the first structured peer-empowerment esafety scheme, which trains and supports a team of pupils to be able to help classmates to stay safe online.
From 5th September 2016, new statutory guidance from the DfE will come into force. It requires EVERY school to put in place strengthened measures to protect children online.
The Keeping Children Safe in Education report has introduced several new responsibilities for schools targeting different areas of online safety, including cyber bullying.
To help you get your head around these changes (and the best way to tackle those new responsibilities), our friends at eCadets have produced this user-friendly guide. Just click on the image to download the guide.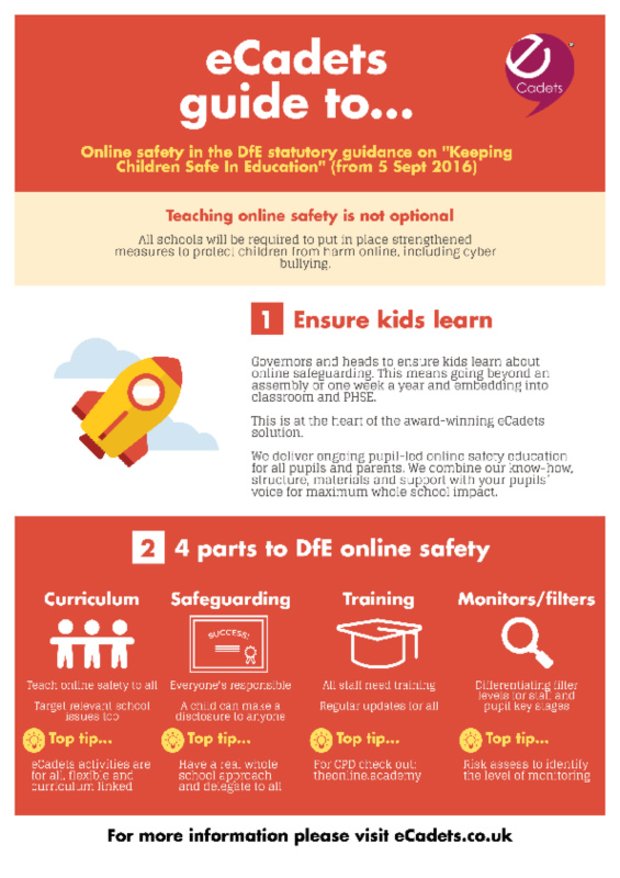 One of the main changes is that teaching online safety in schools is no longer optional. Governors and headteachers need to ensure children learn about online safeguarding, which means it has to go beyond a single assembly or one week of teaching a year, and instead show evidence of embedding esafety into the classroom and PHSE.
Henry Platten, founder of the multi-award winning eCadets programme and former police sergeant, said:
"The arena of online safety is not something schools should be scared by. Technology changes, platforms come and go. However, one thing remains consistent – behavior."




"We've seen a massive impact from empowering teams of eCadets in schools who take the lead on delivering our materials to their peers and educating friends about sustainable safe behaviours."
The eCadets is the UK's leading pupil-led online safety education programme, with more than 3200 schools signed up. It is an esafety club, which features a website for all pupils at a school to securely access, combining the eCadets HQ structure, materials and support with your pupils' voice for maximum impact.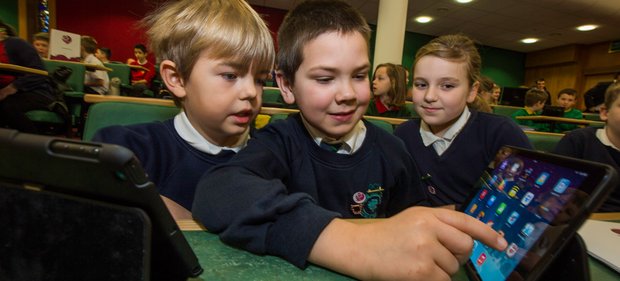 "Joining eCadets is the best online safety decision I made. Amazing value for money and it's made a massive impact at our school".

Nadine Caroll, Headteacher at Whitefield Primary
The team of eCadets in a school receive regular curriculum-linked activities to complete both in their lunchtime club and in class (involving all pupils, so every child benefits) which they then submit to the eCadets central team for assessment.
"eCadets is fantastic and has transformed our school's digital citizenship. Thanks to eCadets it took all the pressure out of our 360 degree safe assessment and we wouldn't have passed it if it wasn't for eCadets. The children are so energised and the clever eCadet structure means there's no impact on teacher time."

Kellie Williams, teacher at Cornist Park.
Children from 3 to 18 can be eCadets. One said:
"I just love it so much I'm going to explode with safety rules. It's fun 'cause we get to help people learn how to keep safe while on the Internet."
For schools joining before the end of September they can save £250 by getting KS1 Mini eCadets for free when they take out KS2 eCadets membership for only £600pa.
Find out more on the eCadets website.