It is important to know what you want to do as a teacher and how best to do it. Roger Smith, author of Effective Teaching explains how to be assertive and confident
Teaching is not just about natural gifts that you either do or do not have. Some teachers seem to be naturally gifted but they have probably just never stopped learning how to be more successful, and they probably have a clear idea of what kind of teacher they want to be.
It is a good idea to begin each day by asking, 'What kind of teacher do I want to be today?'. And then repeatedly ask three simple questions that don't necessarily have very easy answers:
What am I actually going to do as a teacher today?
What will the children do in my lessons today?
What will the children learn?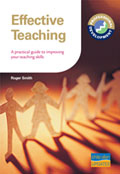 Effective Teaching: A practical guide to improving your teaching skills by Roger Smith (Philip Allan Updates) considers how professionals work together, and how teachers and children relate to one another and the impact this has on teaching and learning. Available from Philip Allan, price £18.99. Tel 01235 827720 or visit Philip Allan
Looking back
All of us have been school children ourselves. We have all been exposed to the skills, eccentricities and failings of many teachers. A good starting-point that helps to decide the kind of teacher you want to be is to look back at your own experiences. List some of the teachers you liked and thought were good and ask:
What did they do?
Why were they good and well liked?
Is there anything I can learn from them?
Or more depressingly – make a list of teachers that you thought weren't very good.
Why did you think that?
What did they do that made you not like them?
You might be surprised to find that some of the good things you remember are simply ways of behaving, for example, smiling a lot, listening, being in firm control, and not humiliating anyone. Equally, some of the bad things could include getting too close and invading your personal space, not being in control, never smiling or having a sense of humour, and being miserable and boring. If this is the case, then it is relatively easy for you to take on board some of the positive traits and to avoid carring out the negative ones.
How to be a good teacher
If I was to list some of the positive attributes of good teaching and help answer the question, 'What kind of teacher do I want to be?, I would include:
Teaching well-planned lessons using a variety of techniques.
Using praise and encouragement appropriately.
Not using sarcasm or humiliating put downs.
Having realistic sanctions and using them.
Saying no and meaning it, and taking action every time it is necessary.
Promoting a calm, purposeful learning atmosphere.
Not building up petty incidents out of proportion but at the same not allowing low-level disruption of any kind.
Believing in a strong work ethic.
Being assertive – and if this proves to be difficult – learning how to do it.