Make Hallah bread to celebrate the Jewish festival of Yom Kippur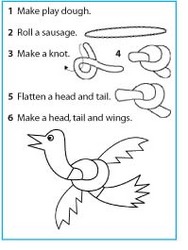 Play-dough birds
Knowledge and Understanding of the World
Exploration and Investigation
Development matters: show curiosity about why things happen and how things work (30-50 months).
Early learning goal: ask questions about why things happen and how things work.
What you need
Group size: four to six children.
Yellow play dough; any type of horn (or a whistle).
What to do
Tell the children about Yom Kippur, which is the holiest day of the Jewish year. Yom Kippur is a day of fasting and prayer when men visit the synagogue. Jewish people ask for forgiveness from God and their families. The evening before the festival a meal is shared, which includes chicken and rice without salt to avoid thirst during the 24-hour fast. It ends with bread and water to symbolise the fast. The meal also includes special 'Hallah bread', which is shaped like birds with wings to represent human aspiration to become more like God and to symbolise God's protection.
Give the children a large piece of play dough. Show them how to roll it into a sausage shape, make a knot, flatten a head and tail, then make a head, tail and wings to create 'Hallah' special bread.
Explain that the end of the fast is announced by the blowing of a 'shofar', which is a ram's horn and eating something sweet, followed by something salty. Talk about other musical instruments that symbolise events, for example, bells at church, whistles for sporting games such as football and netball, and drums, cymbals and so on.
Invite the children to choose or make their own instrument to symbolise a routine at the setting, for example, snack time, playtime, tidy-up time and so on.
Theme links
Festivals
Musical instruments
Support
Help younger children to manipulate the play dough to make the bird shape.
Assessment
Note whether the children express an interest about why things happen and how things work through questions, drawings and the level of participation in activities.
Next steps
Explore the Jewish faith further by finding out from information books about why Jewish men wear special prayer hats and so on.
Extension
Encourage older children to describe to each other how they made the birds.
Home partnership
Ask for parental permission for the children to taste and handle foods. Check for any food allergies and dietary requirements. Invite parents and carers to contribute some sweet and salty foods for the children to share.
Further idea
Make a group book called 'My favourite meal' and invite the children to draw pictures of their favourite food in it.