Create free-flow indoor and outdoor farm role-play opportunities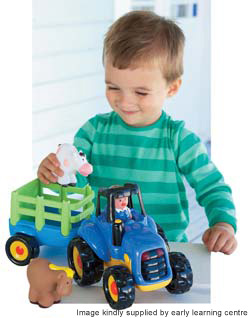 Role-play farmhouse
Transform your indoor home area into a cosy farmhouse kitchen for Old MacDonald.
Create an open fireplace on one wall using brightly-coloured paper, and put some comfortable chairs at either side. Introduce soft toy dogs and cats and hang pictures of farmyard scenes on the walls. Place farmhouse cookery books in the area.
Develop the outdoor area to include fenced areas with gates and animal shelters so that the children can pretend to be animals, or care for soft toy animals.
Encourage free-flow play as much as possible so that the children can get dressed to go outside and work on the farm, then return indoors to eat, relax and sleep.
Be ready to introduce new resources that the children suggest, for example, they may decide to call for the vet. Involve parents by asking them to supply suitable items to develop the children's farm-play scenarios.
Initially, interact with the children to encourage full use of both the indoor and outdoor scenarios, and join them at intervals to support the direction of their play.
Suggested resources
Indoors: dressing-up clothes for farmers and their families; resources for the farmhouse such as cooking utensils and furniture; farmhouse cookery books; red, yellow and black paper; books about farm animals such as Old MacDonald Had a Farm by Colin and Jacqui Hawkins (Lift-the-Flap Books, Egmont); posters and pictures showing a variety of farms; farming magazines. Outdoors: free-standing fences or benches; crates, barrels and boxes; soft toy farm animals; ride-on toy farm vehicles.
1 Feeding the lambs
Take care of newborn lambs in the farmhouse kitchen
Communication, Language and Literacy
Language for Thinking
Development matters: use talk to connect ideas, explain what is happening and anticipate what might happen next (30-50 months); begin to use talk to pretend imaginary situations (40-60+ months).
Early learning goal: use language to imagine and recreate roles and experiences.
What you need
Group size: small groups.
Role-play farmhouse; soft toy lambs; feeding bottles; cardboard boxes; hay.
What to do
While the children are playing in Old MacDonald's farmhouse kitchen, introduce a box of toy lambs for them to care for.
Explain that sometimes when there are several newborn lambs on a farm, some of them are weaker than others and they need special care and feeding by hand until they are strong enough to join the other sheep outdoors.
Encourage the children to pretend to be the farmer or his wife feeding and talking to the lambs in the warm, farmhouse kitchen.
Support
Demonstrate to the children how to gently hold a baby lamb when feeding it.
Extension
Invite the children to go outdoors to 'feed' the other animals in the farmyard. What type of food do the children think they would eat?
Birth to 36 months
Encourage the children to care for toy dogs and cats, and talk about their experiences of pet animals.
Cross-curricular links
PSED

– respond to significant experiences, showing a range of feelings when appropriate.
CD – use their imagination in art and design, music, dance, imaginative and role-play and stories.
2 Gallop, gallop
Have fun pretending to ride horses around the paddock
Physical Development
Movement and Space
Development matters: make movements with arms and legs which gradually become more controlled (0-11 months); are excited by their own increasing mobility and often set their own challenges (16-26 months).
Early learning goal: move with confidence, imagination and in safety.
What you need
Group size: small groups.
Outdoor farm area; riding hats; pictures of horses galloping and jumping fences.
What to do
Explain to the children that one of the outdoor enclosures is the paddock where horses are kept. Tall about the children's observations of people riding horses. What do they wear?
Let the children put on riding hats and pretend to ride horses around the 'paddock'. Encourage them to 'walk', 'trot', 'canter' and 'gallop'.
Look at and discuss pictures of horses jumping over fences and work together to create jumps using crates, planks and benches. Take care not to make them too high.
Support
Spread floor cushions on the ground to make the activity safer.
Extension
Create an obstacle course with jumps, a water splash (blue sheeting) and a row of cones.
Birth to 36 months
Hold babies on a rocking horse and say the rhyme 'Ride a Cock Horse to Banbury Cross'.
Cross-curricular links
CLL

– interact with others, negotiating plans and activities and taking turns in conversation.

PSRN

– use everyday words to describe position.
3 Animal farm
Sort the animals on the farm into different fields
Knowledge and Understanding of the World
Exploration and Investigation
Development matters: show curiosity and interest in the features of objects and living things (30-50 months); explain own knowledge and understanding, and ask appropriate questions of others (40-60 months).
Early learning goal: find out about, and identify, some features of living things, objects and events they observe.
What you need
Group size: small groups.
Role-play farmhouse; 'Farm animals' activity sheet; large sheet of green paper; child scissors; glue sticks.
What to do
Tell the children that Old MacDonald needs to remember which animals he has on his farm. Suggest that they make a picture to help him. Give each child a copy of the activity sheet and identify the animals together.
Draw some fields on a large green sheet of paper and write a different animal name in each one. Ask the children to cut out the animals and stick them in the correct fields.
Hang the finished sheet on the farmhouse wall so that Old MacDonald can see which animals he has to look after.
Home links
Ask parents to sing 'Old MacDonald had a Farm' with their children while playing with toy farm animals.
Further ideas
Check for any food allergies and dietary requirements. Make a large pan of vegetable soup together to enjoy when sitting around the farmhouse table at the end of the working day.
Provide magazines with pictures of farm life for the children to cut out and make collage farm pictures.
Support
Pre-cut the pictures of the farm animals for the children to stick in the fields.
Extension
Laminate copies of the activity sheet, then cut them up to create sorting and matching cards for the children to use.
Birth to 36 months
Invite the children to choose an animal from a selection of soft toys. Encourage them to name and imitate it.
Cross-curricular links
PSED

– continue to be interested, excited and motivated to learn.

PSRN

– use developing mathematical ideas and methods to solve practical problems.