Celebrate 4 July with your own marching band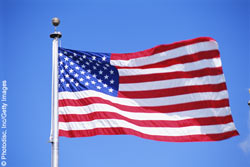 Independence Day is a time when people in America have parties and festivals to celebrate the day that the United States of America claimed independence from Britain on 4 July 1776.
Here comes the band
Physical Development
Movement and Space
Development matters: respond to rhythm, music and story by means of gesture and movement (22-36 months); show respect for other children's personal space when playing among them (30-50 months).
Early learning goal: move with confidence, imagination and in safety.
What you need
Group size: up to six children.
Card; child scissors; crayons; paint; paintbrushes; crêpe paper; glue; sticky tape; percussion instruments; Art Straws; balancing and climbing equipment.
Home links
Host your own Independence Day at the setting and invite parents to watch their children perform their majorette routines. Encourage adults from the setting to dress up and join in too!
Further ideas
Invite the children to paint flags from other countries to use in their march.
Create your own fireworks dance with the children to add extra sparkle to the celebration. Use a variety of coloured materials to represent the colours and percussion instruments.
What to do
Talk with the children about Independence Day (4 July).
Invite them to work together to create a marching band with instruments, flags and pom-poms.
Help the children to make pom-poms from crêpe paper and sticky tape. Make a loop so that the children can put their hand through it to hold it more securely.
Suggest that the children paint American flags on to card and attach Art Straws so that they can wave them while marching around the setting.
Support
Help the children to practice marching safely and use the space available so that they do not bump into each other.
Extension
Invite the children to develop their own marching band with one child being the leader and count as they march in time.