Celebrate National Childminding Week by sharing stories with your children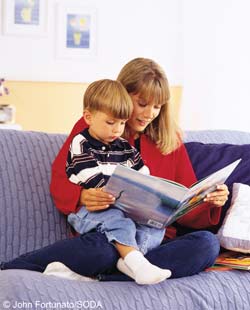 National Childminding Week
This year's National Childminding Week is your chance to show everyone what a great job childminders do all over the country every day.
With National Year of Reading also being celebrated this year, Childminding Week will focus on having fun with books, words and reading to support language, literacy and creativity.
The National Childminding Association is inviting childminders to get involved and let them know how they celebrated National Childminding Week. Here's a great idea for you and the children to enjoy exploring different events and characters from a favourite story book
Story fun
Communication, Language and Literacy
Reading
Development matters: show interest in stories, songs and rhymes (16-26 months); begin to be aware of the way stories are structured (30-50 months).
Early learning goal: show an understanding of the elements of stories, such as main character, sequence of events and openings.
What you need
Group size: small group.
Mr Gumpy's Outing by John Burningham (Red Fox); large sheets of paper; collage and art materials such as paint; fabrics; buttons; silver foil; coloured tissue paper.
Preparation
Choose a story with an identifiable setting, appealing central characters and a simple but strong narrative structure (beginning, sequence of events, clear ending), for example Mr Gumpy's Outing.
Other suitable books for this activity include The Tiger Who Came for Tea by Judith Kerr (Harper Collins), Where the Wild Things Are by Maurice Sendak (Red Fox) and Farmer Duck by Martin Waddell (Walker Books).
What to do
Read the story several times to the children. Talk about the main characters. What do they look like? What feelings and reactions do they demonstrate at different points throughout the story?
Discuss the events of the story, asking the children 'what happens next?'. Focus on the narrative climax when everyone falls into the river, and the happy ending with everyone going home to Mr Gumpy's house for tea.
Explain to the children that you are all going to illustrate the story with a big collage and painted pictures. Involve them in identifying the main events in the story. Limit the number of animals that you include in the activity.
As the children work on their pictures, encourage them to choose appropriate materials, for example, fabrics and buttons for Mr Gumpy's clothes; wavy painted lines, silver foil and coloured tissue paper to make a realistic river.
When the pictures are complete, ask the children to help you decide on a caption for each picture, in order to retell the story.
Click here for more exciting story-book activities, and a link to June's National Year of Reading theme 'Reading escapes'.
Support
Limit the number of events you focus on with the children and choose simple art techniques.
Extension
Encourage the children to retell the story in their own words.
Further idea
Provide some dressing-up clothes and story props so that the children can out the story. Encourage them to think of ways to represent settings such as the boat and the river.