With all the warnings about obesity, are children living in fear of food? PhunkyFoods think so, that's why they're promoting food education
The prevalence of obesity in UK school children is alarming, doubling in as little as the last ten years. So what can we do? Well, at PhunkyFoods we believe that through education we can arm children with the skills they need to make informed and healthy food choices. At the same time, we hope to make them feel good about themselves and enjoy food again.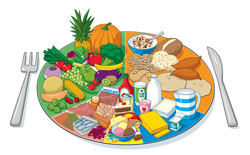 PhunkyFoods Plate of Health
Everywhere they go children get conflicting messages about food and health: alarming media reports; potent marketing messages from the food industry; parents on diets – it's not surprising that they're confused. Making food fun again is a constant theme running through the PhunkyFoods lesson plans and resources. We want to see schools giving children a 'hands-on' approach to learning about food.
The PhunkyFoods teaching model is based around the PhunkyFoods 'Plate of Health' (see poster below), a child-friendly version of the Food Standard Agency's 'eatwell plate'. The aim of the model is to give children a simple, practical and visual message about healthy eating.
Teaching healthy eating
Below are some activities and suggestions to help you teach healthy eating in the classroom.
Start with a whole-class discussion on what being healthy means. The discussion might include aspects of activity and exercise, eating healthily, and of being safe and happy. Stress that part of being healthy is eating a variety of different foods.
Show the children the PhunkyFoods 'Plate of Health' A2 poster. Explain that we all need a variety of foods to keep us healthy and that these foods fit into the food groups on the Plate of Health. Help the children identify the food groups by playing the 'Which food group?' activity on Activity sheet 1 (see below).
What is PhunkyFoods?
PhunkyFoods are experts in healthy eating education – visit www.phunkyfoods.com to find out why! They offer free information and newsletters for schools and parents, fantastic healthy eating resources for use at home and in school, and fun lesson plans and curriculum planning solutions for healthy eating and physical activity.
Using the poster, discuss the idea that some food groups are bigger than others – why might this be? Which groups are the biggest? Which group is the smallest? Introduce the idea that there are no 'bad' foods but that we should eat more of some foods and less of others. Use Activity sheet 2, 'Eat more of… Eat less of…' to reinforce this concept. An interactive game version of this activity sheet (see above) and also the A2 poster are available below.
Using the blank 'Plate of health' template on Activity sheet 3, ask the children to label the food groups correctly. As an extension, let them cut out some pictures of foods from magazines and glue them onto the correct section of the plate.
Smoothies are a really simple way to introduce children to a variety of fruit. Discuss where fruit appears on the Plate of Health, and then make some delicious smoothies using the recipe ideas on Activity sheet 4. To keep the activity on budget use tinned fruit in natural juice – it's just as good and tastes great too!