Allison Lee looks at observing and assessing children for the EYFS, accessing EYFS training and suggests some 'On the farm' activities to enjoy at home
Expert advice
Observing and assessing for the Early Years Foundation Stage
Childminders who care for children in a home-based setting offer a huge array of varied learning experiences – often without realising it. Allowing the children to take part in shopping experiences; sort washing; set the table; and help tidy up are all valuable learning experiences. However, it is sometimes difficult when you work alone to understand how you can make the time to observe and assess the children in your care, in order to ensure the schedules and routines you have planned support each individual child's learning needs. Planning for children in a home-based setting starts with observing the children as they play freely, in order to understand what stage of development they are currently at; what they are interested in; and at what stage their learning has reached.
If you would like advice on a certain topic or would like to ask Allison a question then email us
Watch and listen to the children; record and consider what you see and hear; plan activities that interest the children; and reflect on your work.
As you work alone, you may not always have the time to write detailed observations while the children are present. Use sticky notes, labels or notebooks to quickly jot down relevant information. You can then write a fuller account in the child's diary or record book at a later time, perhaps when the children are sleeping or have gone home at the end of the day.
Q&A
How can I access
EYFS

training around my childminding duties?

Accessing training can be difficult for childminders who work alone and have no one to cover for them. However, local authorities have long been aware of the difficulties that childminders face attending classes during the day, and many training programmes are now available in the evenings and weekends.

In addition to planned training, it is advisable to seek support from, and share ideas with, fellow practitioners, perhaps at your local support group. If you are part of a Network, you could use your meetings with coordinators to explore and discuss the challenges faced by the EYFS.
Activities
On the farm
Animal magic
Find out about different farm animals
Knowledge and Understanding of the World
What you need
Just the children.
What to do
Play a game for the children to explore farm animals in detail and test their knowledge of farm animals. Help them to understand that we need animals for a variety of reasons.
Invite the children to take turns to say the name of a farm animal, and then encourage them to think about what the named animal produces. For example, a hen produces eggs; a cow produces milk; and a sheep produces wool.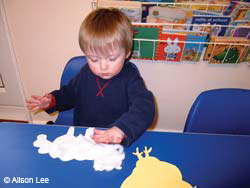 Soft and furry
Create a collage of different farm animals
Creative Development
What you need
Templates of farm animals; variety of collage materials such as faux-fur fabric, feathers, cotton wool, string, leather and so on.
What to do
Ask the children to describe how they would expect each animal to feel. If possible, and with parental permission, arrange to take the children to a local farm so that they can experience, first-hand, how the animals look and feel.
Provide the children with farm-animal templates and a variety of materials. Invite them to make collages of farm animals using the correct material for each animal.