Pets provide an excellent context to develop an understanding of the ways that animals are like us. Use these ideas to show we have many of the same basic needs
A child's first experience of animals is usually through pets – the animals they meet in daily encounters with family, friends and neighbours. These familiar creatures provide an excellent context to develop an understanding of the ways that animals are like us and have many of the same basic needs, leading to a better understanding of the similarities of all living things.
What is a pet?
What do the children think a pet is? Discuss the sort of animals we keep as pets. A good definition of a pet is an animal that lives with us as a friend. A pet depends on us to care for it and provide everything that it needs.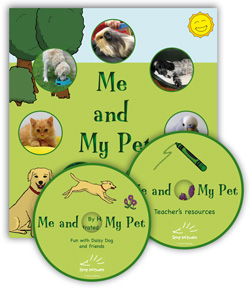 What is the most popular pet to have in the class?
If the children could choose any pet what would it be? Emphasise that looking after a pet is big responsibility. Encourage the children to think about what would need to be considered before getting that pet; for example, space, food, water and exercise.
What's for dinner?
Discuss how pets depend on us to keep them healthy. We have to give them the correct food and just the right amount; not enough and they will be hungry but too much and they will get too big.
Print out the 'Where's my food?' activity sheet (see below). Using the activity sheet, ask the children to think about foods that are appropriate for each of the animals shown, and compare this to the children's favourite foods. Create a class collage of the children's favourite foods and those that their pets like to eat. As an extension, discuss how the animals eat. Do they use their paws or just their mouths? A hamster storing food in its cheeks for eating later can be compared to a dog that eats its food very quickly.
Me and my pet
Discuss with the children ways in which our pets are like us, and ways that we are different. We have many similar body parts such as eyes, a mouth and a nose, and some very different ones – we don't have a tail! Print off the 'Same, different' activity sheet (available below) for the children to complete. Remember to cover the words in the box when photocopying for older or more able children. Ask the children to think how the animals use their bodies when they move. Do they walk, crawl, jump, fly or hop? Explore these ways of using the body in a PE lesson.
These ideas, activities and video compilation are tasters from the Me and My Pet book and CD-ROM pack, reproduced here by kind permission of Spiny Software.
Encourage the children to think beyond the obvious physical similarities and differences and consider other aspects we have in common, such as sleeping, keeping clean, growing, and being happy and sad. Such comparisons with other animals result in a good look at the way we do things, providing a context not only for the Life Processes curriculum but also PSHE.