This poem by Judith Nicholls asks lots of questions about a dinosaur egg. It features a number of high frequency words and words that can be decoded using phonics from Phase 5 of Letters and Sounds.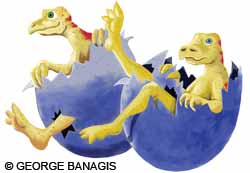 Shared learning and teaching
Before reading
Look at a variety of different eggs – hen's, toy, chocolate, quail, etc. Ask the children to describe them. Who, or what, do they think the eggs belong to?
Talk about a dinosaur's egg. What size do they think it is? What colour? What shape? See Poster 1
Explain that you are going to read a poem about a dinosaur's egg. It has questions in it to look out for.
Previous learning
Children should know how to apply phonic knowledge and skills as the prime approach to decoding words, along with automatic recognition of high frequency words.
Key learning outcomes:
Year 1
To read texts which can be decoded using acquired phonic knowledge;
To recognise the main elements that shape poetry;
Year 2
To make adventurous word choices appropriate to style;
To select from different presentational features to suit writing purpose.
Shared reading
Look at the poem, and ask the children how they know it is a poem.
Remind them that they are looking for questions. Ask them to tell you how they will know if there is a question in the text.
Read the poem together, reminding the children to use phonic knowledge and to look for high frequency words they know.
After each verse, ask them to talk to a partner and think of an answer to the question at the beginning of the verse. Can they think of an answer that could be added to the poem?
Read the whole poem through again together so that the children can hear its rhythm and rhyme. Encourage them to read aloud with you, showing pace and intonation.
After reading the poem a second time, did the children notice any repetition?
Ask the children to use their talking partner to read each other a question (or questions) aloud from the poem.
Shared, group and independent writing
Choose a question from the first line of one verse – then write the answer in poetry form, using the activity sheet. The poem does not have to rhyme. When they have produced a verse, they could try typing it out on the computer and adding sounds and pictures.
Alternatively, work in groups of three – each child with a different verse, as in Judith Nicholls' poem. Put the verses together to produce a group poem.
Practise reading the poem out loud – add some actions to make it more interesting and perform it to the reception/nursery class.
Further reading
Dinosaur Poems edited by John Foster; illustrated by Korky Paul (OUP, 978 01927 63051).
Dinosaur Poems edited by Paul Cookson, illustrated by Sarah Nayler (Scholastic Young Hippo, 978 04399 51746).
Tyrannosaurus Was a Beast: Dinosaur Poems by Jack Prelutsky; illustrated by Arnold Lobel (Greenwillow Books, 978 06880 64426).
Copy the poem, underlining words with the ee sound in them. Discuss the different spellings of that phoneme. Write the words down in different lists – ee e, ea, y. Can the children add more words to each list? Are there any words that have the same phoneme but an alternative spelling? (spiny and might; turtle and smaller)
Use a dinosaur small world play area to encourage the children to create a scene after the eggs have hatched. Provide felt-tipped pens, cardboard, lollipop sticks and modelling clay so the children can create signs and captions for their 'Dinosaur World'.
Leave half a giant cracked 'dinosaur egg' (made from papîer maché) and a dinosaur footprint outside. Tell the children that a dinosaur egg hatched a few hours ago and there is a dinosaur roaming around. Can the children write a poem about the dinosaur so people know what to look for?
Plenary
Invite the children to share their verses of the poem. Look at the layout and decide if it looks like a poem.