Read all about it! Mini media moguls develop life skills in classroom project…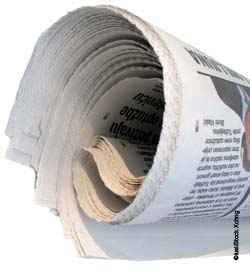 Online extra!
Don't forget to download Activity sheet, 'Writing a newspaper article' which provides children with some top news-writing tips.
Despite the growth of online and television news sources, newspapers still play an important part in our lives, with millions of us reading at least one every week. Giving your class the opportunity to participate in creating a newspaper will enable them to become involved with, and understand, an important feature and force of modern life – never mind the curriculum opportunities for literacy, numeracy, ICT, citizenship, and the life skills they'll learn along the way. The school newspaper itself can become an important part of school life, and can help make the school a better place by improving communication and celebrating successes. (Click here for a creative topic on more ways of using local and national news stories in the classroom.)
Activities
THE PROJECT
1 Exploring newspapers
Often, children working on media projects become busily engaged in their work without fully understanding the nature of the media itself, so it's important to do some preparation first. Before they begin their production, children should consider:

The sort of roles involved in producing a newspaper.
How and why newspapers are formatted as they are.
How news articles are organised and written.
Why it's important to know who your audience is.

Depending on your local circumstances, it might be possible to invite members of the press in to talk about their work. Local newspapers are often keen to work with the community and your paper may even be prepared to let children write a report, visit their press offices or even produce a page of the newspaper.
2 Front page news
Look at some typical front page layouts with your class. Choose the newspapers in advance to ensure that the stories and photographs are suitable. Local newspapers are often a good place to start. Specialist newspapers for children may be useful too, as they follow newspaper conventions but have more appropriate content. You can find examples at: www.thenewspaper.org.uk and www.newsademic.com
Look at the way newspaper headlines are constructed – short, snappy and sometimes enigmatic. You may even find or invent examples that are unintentionally humorous, as with this famous headline about a cruise liner: 'Queen Mary Having Bottom Scraped!' Children will enjoy writing headlines about their own memorable moments and experiences.
Challenge the children to practise writing stories beneath the headlines. They will need to know that such stories are not usually written chronologically, that they use active and emotional verbs, and often contain quotations (see Activity sheet, 'Writing a newspaper article').
Discuss with the children what images and photographs would go well with their articles and headlines. Revisit the newspapers to see how photographs have been used to catch attention, infer meaning and support the article.
3 Production line
Explain to the children that producing a newspaper involves many different people performing different jobs: editor, deputy editor, sub editor, reporters, designers and advertising managers. Help the children to understand these roles – a good resource can be found at http://tinyurl.com/6raetq
Once the children have had the opportunity to explore front pages and press roles, the class could be divided into teams based on various roles and responsibilities. In a busy classroom, it's often more practical to ask children to work in small teams, with each one working on a specific range of stories, for example a team researching, writing and producing the sports page(s). In this way, it's also possible to group less confident children together in order to focus support.
Here are a few examples of topics that children could research and report on which could also include suitable photographs:
- School news
- School clubs
- School visits and trips
- School sports reports/results
- School art, music and drama projects.
- School local news and issues (a new supermarket development or cycle path)
- 'Big' issues or features (environmental change)
- Quizzes and puzzles, for example devising a simple Soduku challenge
- Film, fashion, TV and music reviews
- Interviews with school teachers, governors or local figures.
Dividing the class into small teams, each working on a specific area of the newspaper, makes it easier to set realistic targets and deadlines for the activities. Importantly, it also makes it possible for the groups to share the roles found in a news room. For example, the team working on the sports page could make a joint editorial decision about which is the main story, what pictures should be included, and how it should be laid out.
4 Printing costs
Not so long ago, producing a professional-looking publication was difficult and expensive. These days, however, almost every school has good quality word processing and desktop publishing software, digital cameras and photocopiers. Photocopying is likely to be the biggest financial cost in school newspaper production. This is a good opportunity for children to understand the unit cost of each page and to work out the final cost of estimated print runs. How will the cost be met? Will the newspaper be free or will it have a set price? Will local businesses sponsor or advertise in the paper? What are the implications of this? Introducing the financial realities of newspaper production is also a good catalyst for children to consider how they will market, advertise and promote the newspaper.
Alternatively, you could investigate other ways of publishing and promoting a newspaper using

ICT

. A free

PDF

creation tool (see www.primopdf.com) will allow you to save the final newspaper as a

PDF

file and upload it for download from the school website. But

ICT

is not just a means to production. It can also be used to record the process of creating the newspaper. Why not create an online diary or blog to capture the great speaking, listening, team working and learning that's going on?
5 Launch party
Once the newspaper has been printed, published and promoted, it is time to celebrate! Planning a launch party puts children back into another project planning cycle and provides an excellent chance for them to review what and how they have learned. Three of the elements of the Every Child Matters agenda demand that children 'Enjoy and achieve', 'Make a positive contribution' and 'Achieve economic well-being'. In producing a real newspaper, for a real audience, your junior entrepreneurs will be taking some positive steps towards these goals