National Year of Reading —Rhythm is going to get you
23 June 2008
Add to My Folder
This item has 5 stars
of a maximum 5
Rated 5/5 from 28 ratings (Write a review)
Rouse children's enthusiasm for reading with this month's National Year of Reading theme – 'Rhythm and rhyme'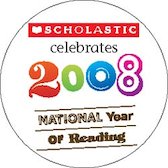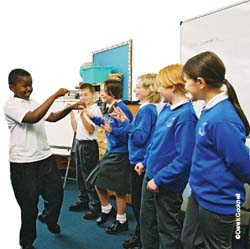 Children get into the groove
July sees the National Year of Reading theme 'Rhythm and rhyme' and it couldn't be more apt for the sunny and upbeat weeks preceding the summer holidays. Keeping children on task at this time of year can be tricky – it is still important to develop and nurture literacy skills – especially as some children may not do much reading over the holidays. But the end of term undoubtedly means that concentration levels may be lower, as children get twitchy about the prospect of six whole weeks of joyous freedom. Including short, snappy and lively literacy lessons, based on rhythm and rhyme, is a great way to capture children's attention – and hopefully promote some positive reading experiences that they can take with them into, and beyond, the summer break.
Activities
1 Terrific tales
Read aloud some examples from Roald Dahl's Revolting Rhymes (Puffin, £7.99 PB), adding as much expression and tone to the performance as possible to heighten the comic value. Afterwards, ask the children what they found particularly amusing (apart from your impression of a scary wolf!). Explain that part of the humour stems from the quirky alternatives Roald Dahl gives to the traditional stories. Choose a traditional tale (preferably not already adapted in Revolting Rhymes) and as a class, compose a humorous rap based on it – either adopting one of the character's points of view or else rewriting the ending.
2 Summer wishes
Thinking ahead to the summer holidays, read the first of the 'NYR: rhythm and rhyme' activity sheets 'Summer wishes' as a whole class. Next, thought shower the children's own summer wish ideas on the whiteboard. Tell the children to use their ideas to write a poem or song based on a summer 'wish list', of all the things they'd love to do during the summer break. They should begin each line with 'I wish…'. If they choose to write a song, encourage them to use instruments to help create a rhythm. They could then perform their poems or songs in an end-of-year assembly celebration.
3 Goodies & baddies
Discuss the children's favourite heroes and villains from books they have read. Ask them to make a list of all the characteristics that help to make up the hero or villain. Afterwards, challenge them to make up a limerick based on their chosen character. For example:

There was a young wizard called Harry

A magic broomstick he did carry

An ace at Quidditch

A star on the pitch

Cheered by all: 'Come on Harry, come on Harry!'

Children can use the third of this month's poster back activity sheet, 'Limericks' to remind them of the rhythm and rhyme rules of limericks.
4 Mumble jumble
As a class, read the second, third and fourth of the 'NYR: rhythm and rhyme' activity sheets 'The Jumblies' by Edward Lear. This classic poem is bursting with imagery – perfect for encouraging creative work. Invite the children to pick a verse from the poem to illustrate – in whatever art materials they choose. Remind them that a lot of the poem is non-sensical and based on fictitious characters and lands, so they can really let their imaginations run wild.
5 A view to poetry
As a class, read the poem 'The London Eye' at www.funny-poems.co.uk/kids/humorous-poetry/q02-london.asp Explain that the London Eye is a tourist attraction in London. Ask the children to research tourist information websites and then write a poem based on an attraction or place of interest. Junior Ed PLUS subscribers could also refer to activity sheet 'Last Night, I Saw the City Breathing' – a poem by Andrew Fusek Peters based on the city of Bristol.