Help shape children's love and understanding of poetry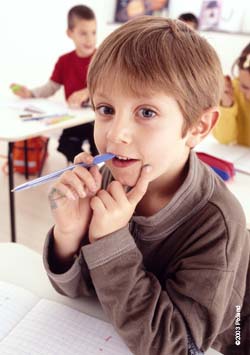 Introduce different types of poems to children
Free resources
Don't forget to check out the Interactive resource, 'Aquarium' (subscribers only) and 'Poetry' activity sheets. A printed version of the 'Aquarium' poster is available with the July '08 issue of Junior Ed PLUS.
Poems have been part of the culture of many lands for centuries. They appear in the Bible, on Ancient Greek artefacts, Viking runes and Victorian copperplate. Poems have been penned, carved or typed by the likes of Shakespeare to the Sugababes, and can grace greetings cards and gravestones. We sing them in karaoke and in church, use them in advertising, as memory joggers and to express everything from anger to adoration. Yet many children see them as 'soft' or 'old fashioned' and a lot of teachers see them as difficult.
The following ideas, supported by the 'Poetry' activity sheets aim to help you address and use poetry in a variety of fun ways.
Activities
1 Favourite words
Ask the children what poetry is made of. Elicit that it is made of words – and just like someone who doesn't enjoy swimming if they fear water, children will need to learn to love words before they will want to build poems. In pairs, let them discuss and list words they like and dislike and try to pin down why. Is it association, the sound itself, or some other reason?
Some examples Key Stage 2 children have offered include:
Hoover: a lovely sound of really enjoying the job it has to do!
Midnight: conjures up all the still feelings I have.
Agony: because it has a lovely stiff feel about it.
Share ideas among the class, and then challenge children to incorporate their favourite words into a list poem. See below for an example of a list poem by a ten-year-old child:

Chiffon is a dreamy gown,

Villains always bring you down.

Soothe is getting very cool,

Dawdle on the way to school.

Slender is a dappled deer,

Snarl is facing you with fear.

It is important to list the favourite words first, not just pick ones which make suitable rhymes!
2 Presenting Haikus
Haikus are traditional Japanese poems which have 17 syllables. They usually describe a concept, feeling or moment in time, such as being struck by the beauty of a tree in flower, or seeing a dog yawning on the street. Haikus have good links with number work, counting, rhythms, sequences and patterns. Challenge the children to design a way of displaying their haiku using the number 17, such as to a 17-note tune, on a 17-sided shape, or a paper sculpture or book with 17 folds or sides. I made a small woven paper envelope folded 17 times to house my haiku:

Silent paper enfolds unknown secrets...

Unfold

Unweave

Understand

3 Riddle detectives
A simple and enjoyable formula for writing riddle poems is to take the question 'Where am I?' and start each line with a preposition, such as above, below, beneath, beside, over. For example:

Around me wave stalks of gold

Beneath me insects are at work

Above me the Sun's heat beats...

(answer: a cornfield)
You can build this into a full-scale treasure hunt around the school, where each clue is a rhyming couplet giving a task and describing the whereabouts of the next clue, such as:

Write down (if you want to win)

What's beneath Miss Barker's bin...

All clues must be left where they are and solved discreetly! Answers should be filled in on a pre-prepared sheet. This makes a great class project and fundraiser.
4 Word poems
Choose a noun (such as 'ice') and write it at the bottom of the whiteboard. Discuss adjectives with the class, writing them all over the board until you have 30 or more. Discuss the merits of each, whittling them down to the six that the children consider the very best. They may be imaginative, alliterative or rhythmic – encourage the rejection of ordinary or predictable words such as 'cold' or even 'freezing'.
Arrange the final six words in order above the noun, until a pleasing combination is found. A result might be:

Sparkling

Splintered

Frostbitten

Fragile

Glassy

Untrustworthy

Ice.

5 Introducing the Bard
Shakespeare wrote some of the finest poems in the world, with many of them appearing in his plays. One of the poems I use most frequently with KS2 children is 'Ariel's song' ('Full Fathom Five'), from The Tempest (Act I, Sc2). Children seem captivated by its eeriness, sadness and slightly sinister atmosphere. Try accompanying it with Benjamin Britten's Four Sea Interludes – Dawn, which complements it perfectly, while some children narrate it and others use movement to portray the words. To hear what another primary school did with this, log on to www.bbc.co.uk/drama/shakespeare/60secondshakespeare/watch/rockmount_tempest.shtml Short audio and videoclips of other schools performing Shakespeare can also be found here.
6 Cross-curricular poetry
Explore XJ Kennedy's poem on the Interactive resource, 'Aquarium' (subscriber only — non-subscribers can use the print poster in the July '08 issue) noting the shapes and colours described. Using it as inspiration, challenge the children to make a large collage frieze using magazines, textiles or prints, or incorporate several techniques into one piece of artwork, including 3D, as well as 2D, areas.
Another activity idea is to write, as a class, another verse to insert between verses two and three. It must match in rhythm, style and format.
The movements suggested by the poem can also be used to inspire and build a dance routine. You can use the musical accompaniment provided by the Interactive resource, 'Aquarium', to compose your own, or use a longer piece based on water, such as Maurice Ravel's Jeux D'Eau or Une Barque Sur L'Ocean.
7 Poetry teasers
Find ways to incorporate poetry into the classroom. If you have a spare display board, raise children's curiosity by pinning a poem up. Such as:

Now there may be nothing here -

But something wondrous will appear...

Or leave an instruction on the board:

Get your maths book from your tray

And try page 42 today.