This non-fiction text provides children with simple information about some well-known and other, less familiar, dinosaurs. The information explains how different parts of their bodies were adapted for their survival. It includes a contents page and headings.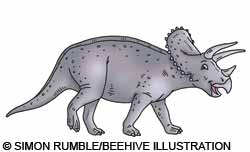 These teachers' notes refer to the guided reading leaflet, 'Dinosaur body bits'.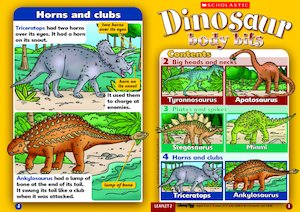 Previous learning
Children would benefit from some knowledge of a range of dinosaur names, particularly knowing that many end in 'saurus'. Read Leaflet 1 to the children during a whole-class session to support this. To support decoding, children need to be able to recognise split digraphs and common spelling patterns from a range of long vowel phonemes.
Key learning outcomes:
To reconise alternative ways of spelling phonemes – eg, ee, ai (Year 1);
To find specific information in simple texts (Year 1);
To create simple information texts (Years 1/2);
To use phonics to read/spell words that are not completely decodable (Years 1/2);
To explain organisational features of texts (Year 2).
Before reading
Recap the features of non-fiction texts and link to other guided reading sessions using non-fiction books. Remind the children it is not necessary to start non-fiction texts at the beginning as it is in stories.
Recap their knowledge about dinosaurs.
Read the title of the text together. Ask the children to compose some questions they think they could answer by reading the text. List these.
Write out Tyrannosaurus, Ankylosaurus and Triceratops and point out the tricky bits (less common pronunciations of y and c).
Remind the children to use phonic skills as their first strategy for decoding and to look out for vowel digraphs in words and chunks they are familiar with in longer words – eg, aurus.
Recap: split digraphs a-e, o-e and i-e; common spelling patterns for /ee/ and /ai/.
Reading the text
Let the children use the contents to choose the page they think will help them answer some of their questions.
As the children read, listen to them individually and support them to identify vowel digraphs as they blend through a word.
Further resources
Hot Topics: Dinosaurs (Scholastic, 978 04399 45097). 80 pages of cross-curricular activities for ages 5 to 11, including practical activity sheets. Written by Peter Riley, author of our dinosaur resources this month. Look out in Child Education PLUS and Junior Education PLUS in October for a chance to win a day's workshop with Peter. Design a Dinosaur Game Child Education PLUS February 2008. Fun interactive game in which children build a dinosaur by answering simple questions. Dinosaurs Judy Allen and Tudor Humphries (I Wonder Why series, Kingfisher, 978 07534 16167). Flip the flaps to uncover extraordinary facts about the lives of dinosaurs. I Wonder Why Triceratops Had Horns and Other Questions About Dinosaurs Rod Theodorou (I Wonder Why series, Kingfisher 978 07534 07608). Combines cartoons with facts and simple analogies. Age 5 and over.
Responding
Ask the children to discuss which page they read first, which question they thought it would help them answer and why they thought this.
Discuss which questions they could answer. Ask them to look back through the leaflet and show each other where they found the answers.
Where might they find the answers to any questions not answered – or other information about dinosaurs?
Use the activity sheet below to model, and support the children with, information retrieval and understanding (AF2).
Discuss some of the techniques the dinosaurs used for defence and attack.
Follow-up to guided reading
Compare some different information books and texts about dinosaurs. How do they present the facts? Is it easy to find the information you need? Do they have a contents page, headings, captions, diagrams, etc?
Choose another dinosaur and make a new leaflet using the same headings.
Make a dinosaur display using toys, and label it with factual captions.
Give the children a copy of the Dinosaur hunting activity sheet, which focuses first on looking for words with the /ee/ sound then on words with the phoneme ai.